S. Korea holds massive live-fire naval drills 'to hit back & bury enemy' in case of provocation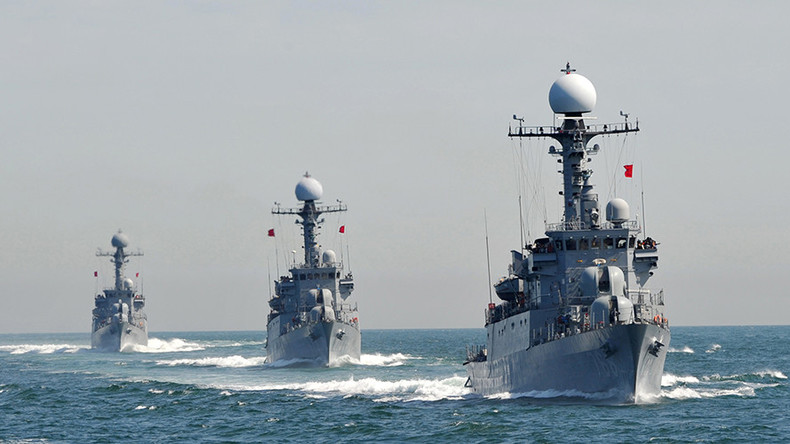 In a show of force against Pyongyang, which claimed to have tested hydrogen bomb on Sunday, the South Korean Navy held live-fire drills Tuesday, involving guided-missile vessels and aimed at preparing to "hit back and bury" the enemy in case of provocation.
The drills saw a 2,500-ton Gangwon frigate, a 1,000-ton patrol ship, 400-ton guided-missile vessels and 130-ton high-speed boats maneuvering in the Sea of Japan (called the East Sea by South Korea).
The massive exercises are designed to enhance South Korea's "military's immediate response posture against the enemy's naval provocation," so its fleet has the capability to "immediately hit back and bury them at the sea," Captain Choi Young-chan, commander of the 13th Maritime Battle Group said as cited by Yonhap News Agency.
With the situation at the Korean Peninsula heating up by the day, the South Korean Navy says it also plans to hold four-day battle group training starting Wednesday, involving various types of military machinery.
The drills in the country's southern waters will see more than 10 vessels, which include a 2,500-ton Chungbuk frigate and a submarine. P-3C Orion surveillance jets, Lynx multi-role helicopters, F-15K fighter jets and a CN-235 transport plane.
Seoul will also conduct a separate joint anti-submarine drill with its major ally in the region, the US, on Thursday and Friday, the agency reported.
On Monday, the South Korean military conducted a live-fire drill, simulating an attack on the North's nuclear site, which involved fighter jets and a surface-to-surface ballistic missile. The combined exercise involved a "Hyunmoo surface-to-surface missile and the F-15K's long-range air-to-ground missile," all of which "accurately hit designated targets," according to the Joint Chiefs of Staff.
READ MORE: S. Korea to install another 4 THAAD launchers, mulls deploying aircraft carrier & strategic bombers
Following a test by North Korea of what it claims to be a hydrogen bomb that could be mounted on an Intercontinental Ballistic Missile (ICBM), the South Korean military said it has been discussing with the US a potential deployment of an aircraft carrier and strategic bombers.
South Korea will also install another four THAAD launchers in Seongju County, some 300km south of Seoul, the Defense Ministry said. There are currently two THAAD launchers in operation there, while four others are ready for deployment, according to the ministry.
In addition to this, the US agreed on Monday to allow South Korea to mount heavier warheads on its missiles above the previously agreed threshold of 500kg.
The military cooperation between the US and South Korea includes restrictions on missiles that South Korea may deploy on its soil. In 2012, Washington agreed to extend the range limit to 800km, but preserved the 500kg cap on payload weight.
In the meantime, Russia has reiterated its call for a political solution before the rapidly escalating crisis spins out of control. Pyongyang will not relinquish its military program under pressure of sanctions and military threats, because the examples of Iraq and Libya have convinced it that nuclear deterrence is the only credible way to ensure its security, Russian President Vladimir Putin said on Tuesday.
"Ramping up military hysteria in such conditions is senseless; it's a dead end," he said. "It could lead to a global, planetary catastrophe and a huge loss of human life. There is no other way to solve the North Korean nuclear issue, save that of peaceful dialogue."
China joined the call for restraint, with China's US ambassador Liu Jieyi urging North Korea to "return to the track of resolving the issue through dialogue."
You can share this story on social media: