Outrage after Japanese Deputy PM says Hitler had 'right motives'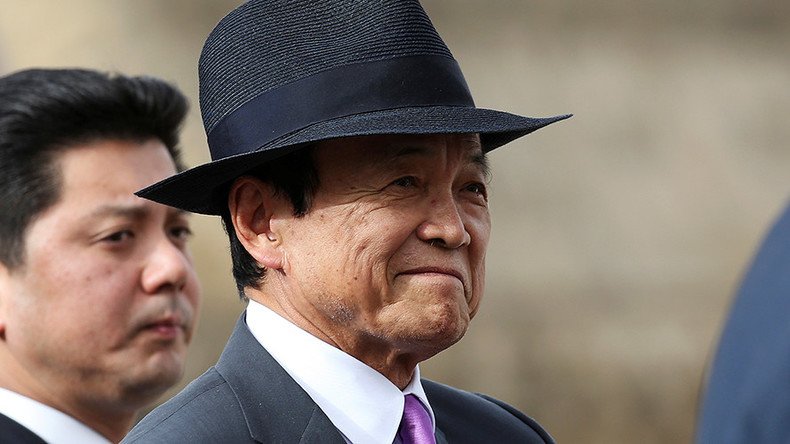 Japan's deputy prime minister, Taro Aso, is in hot water after suggesting Adolf Hitler might have had "the right motives." He was criticized both at home and abroad, with the US-based Simon Wiesenthal Center saying the remarks were "downright dangerous."
"I don't question your motives (to be a politician). But the results are important. Hitler, who killed millions of people, was no good, even if his motives were right," Aso told a meeting of his faction of the governing Liberal Democratic Party on Tuesday.
The Simon Wiesenthal Center, a global human rights organization which confronts anti-Semitism, hate and terrorism, said Aso's comments could spoil Japan's reputation.
"This is just the latest of a troubling list of 'misstatements' and [they] are downright dangerous," the center's head, Rabbi Abraham Cooper, said in a statement on Tuesday.
"These words damage Japan's reputation at the very time when all Americans want to show their solidarity with Japan, our sister democracy and ally, following the missile launch from Kim Jong-un's North Korea," he added.
Kazunori Yamanoi, chairman of the main opposition Democratic Party's Diet Affairs Committee, said Aso's remark was "a serious gaffe."
The comment "was extremely shameful as one made by a Cabinet minister. I cannot help but question his competence (as a minister)," he added, Kyodo news reported.
On Wednesday, Aso was forced to issue a statement, saying, "I raised an example of a bad politician. It is regrettable that [the comment] was misinterpreted and caused misunderstanding."
"It is clear that Hitler was wrong in his motive too. I want to retract my comment because it was inappropriate to cite him as an example," he acknowledged.
Aso is no stranger to putting his foot in his mouth.
In 2013, he called on local politicians, revising the US-imposed pacifist constitution, to learn from the Nazis' amending the constitution of the Weimar Republic.
"Germany's Weimar Constitution was changed before anyone knew. It was changed before anyone else noticed. Why don't we learn the technique?" Japanese media quoted Aso as saying during an event in Tokyo.
Aso took back his embarrassing remarks after Beijing and Seoul said they "hurt many people."
In June, Bank of Japan issued an apology after Yutaka Harada, a member of the board, told a seminar Hitler's economic policies had been "appropriate" and "wonderful" even though they enabled the Nazi dictator to do "horrible" things.
"The Bank of Japan views with regret the fact that the remarks of one of its Board Members have become a source of misunderstanding, and will see to it that such an incident will not repeat itself," the central bank told Reuters.
In April, Japan approved using 'Mein Kampf', Hitler's autobiography and the Nazi manifesto, in schools for educational purposes. The government said the German dictator's book can be used in a way that adheres to the spirit of the basic education law, Jiji Press reported.
You can share this story on social media: