'American Nazism': North Korea compares Trump to Hitler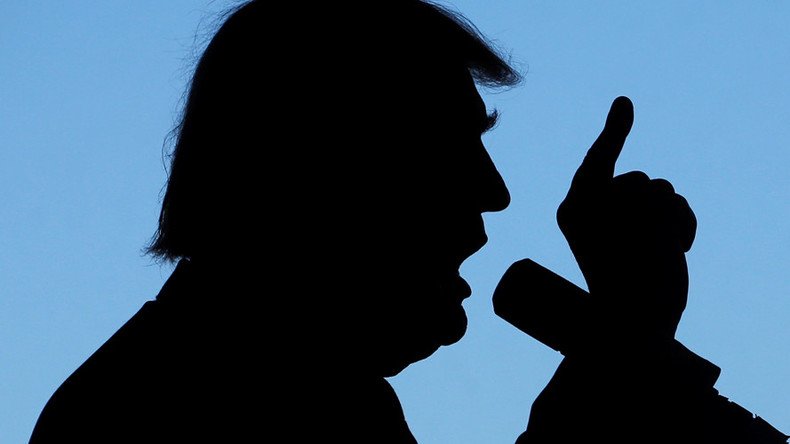 US President Donald Trump's "America-first principle" equates to Nazism and his policies are worse than fascism, North Korean state media reported.
"The idea is the American version of Nazism, far surpassing the fascism in the last century in its ferocious, brutal and chauvinistic nature," the Korean Central News Agency (KCNA) said in an article titled "We Reject 'American-first Principle'- Nazism in the 21st Century," which was cited by KCNA Watch on Tuesday.
KCNA goes on to say that while Trump divides the world into "friends and foes," his "two-nation strategy" follows "Hitler's dictatorial politics."
Apparently referring to the travel ban imposed on majority-Muslim countries, KCNA says that such an approach is "little short of fascism's racist politics."
In its report, the North Korean agency also blames the US for disrupting world peace, which has never existed since the establishment of the "American-first principle," more commonly known as "America First."
The policy, which focuses on American interests and American national security, is also labelled as a "reactionary ideological trend" and a "war-first principle," which violates non-interference and peaceful co-existence principles and is designed to "turn the human society of modern civilization into the wild."
"Inhumane" sanctions against Pyongyang, which were imposed following its nuclear and missiles tests, "far exceed the degree of Hitler's blockade of Leningrad," according to the article.
America has triggered chaos outside its borders, KCNA says, citing as an example "the evil cycle of destruction, slaughter and instability even in the Mid-east" and the situation in Latin-America.
The US withdrawal from the Paris climate accord is compared to atrocities in Nazi gas chambers, while the article says the step threatens to turn the whole planet into "a poisonous gas room."
The article comes amid increasing tensions between Washington and Pyongyang. North Korea has threatened to conduct more missile tests, while the US has conducted military drills with its regional allies, South Korea and Japan.
READ MORE: N. Korea blames US student's death on Obama policy, calls itself 'biggest victim'
Trump called North Korea "a brutal regime" following the death of American student Otto Warmbier on June 19, who was released by North Korea to the US in a coma after 17 months' detention for stealing a propaganda poster from a hotel in Pyongyang.
Pyongyang blamed the death of the student on Washington, saying that he was a victim of Barack Obama's "strategic patience" policy, while his release was never requested.
You can share this story on social media: