N. Korea blames US student's death on Obama policy, calls itself 'biggest victim'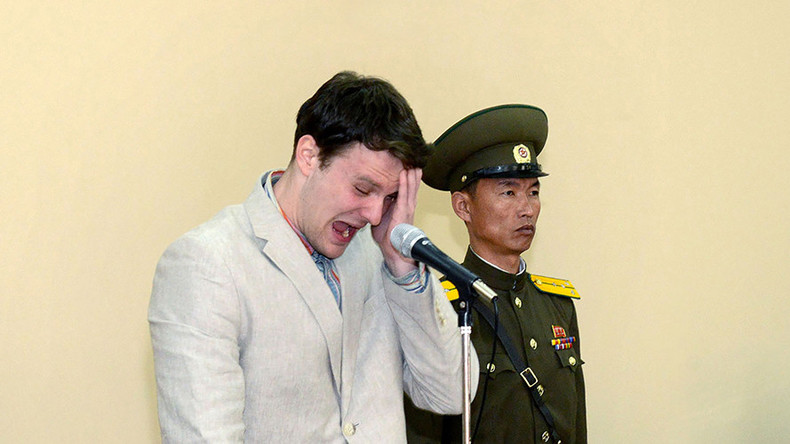 A US student released by North Korea to the US in a coma was a victim of the "strategic patience" policy of former President Barack Obama, who never requested his release, says Pyongyang. It labels itself the "biggest victim" after the student's death.
North Korea has blamed the death of Otto Warmbier, whom it released in a coma after 17 months' detention, on Obama's "strategic patience" policy. His release was never requested, Pyongyang says.
Warmbier was released earlier in June with severe neurological trauma after months spent in a coma. He passed away at University of Cincinnati Medical Center, Ohio, on Monday.
In its first official comment following his death, Pyongyang says Warmbier was "a victim of the policy of strategic patience" of then-US President Obama, whose administration never requested his release, an unnamed North Korean Foreign Ministry spokesman said in a statement to the official KCNA agency, released Friday and seen by Reuters, AFP and AP.
Pyongyang then went on, saying North Korea is the "biggest victim" in Warmbier's death.
READ MORE: Comatose US student released by North Korea dies in hospital
According to the unnamed official, the fact that Warmbier died suddenly, less than a week after his return to the US in his normal state of health "is a mystery to us as well."
US doctors who traveled to check on the student's health confirmed that Pyongyang had "provided him with medical treatment and brought him back [to life, as his] heart was nearly stopped," the official added.
READ MORE: 'Risk too high': Tour agency that sent Otto Warmbier to N. Korea halts trips for Americans
"Although Warmbier was a criminal who committed a hostile act against the DPRK [the Democratic People's Republic of Korea], we accepted the repeated requests of the present US administration and, in consideration of his bad health, sent him back home on humanitarian grounds," the spokesman said.
Those who have "absolutely no idea" about "how well" Pyongyang treated Warmbier "under humanitarian conditions dare to utter 'mistreatment' and 'torture'," the statement from the official read.
The official accused Washington of conducting a "smear campaign" against North Korea.
"[It] compels us to make firm determination that... we should further sharpen the blade of law," he said, adding "the US should ponder over the consequences to be entailed from its reckless and rash act."
The 22-year-old University of Virginia student came to North Korea for a short visit in late 2015 as a tourist and was arrested in January 2016 on charges that he stole a propaganda poster from a staff-only level of the Pyongyang hotel where he was staying.
Warmbier was charged with "hostile acts" towards the North and sentenced to 15 years of hard labor, but was released and medically evacuated 17 months later.
His parents were told that their son had contracted botulism, a form of food poisoning, soon after his trial. He then reportedly took a sleeping pill and never woke up.
When Warmbier was still in coma, his father said there was no excuse for how his son had been treated in North Korea.
"North Korea is a pariah regime. They're brutal, they're terroristic," he told reporters at a press conference in Wyoming, Ohio. "We don't believe anything they say."
The circumstances of Otto Warmbier's coma and death are yet not clear. He had been in a comatose state since at least April 2016, according to two MRI scans that were on a disc that arrived with the student from North Korea, Dr. Daniel Kanter told reporters earlier in June.