'Behaving like Hitler': N. Korea lashes out at Japanese PM to 'wake up from militarist fever'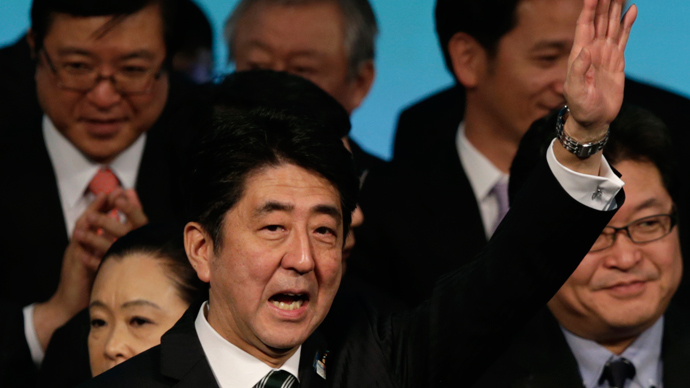 North Korea has slammed Japanese Prime Minister Shinzo Abe, likening him to "the fascist maniac Hitler." The statement was made over the PM's plan to increase armaments and amend the country's constitution, which limits Japan's military to self defense.
The North's official KCNA news agency published an editorial titled, "Is this the emergence of an Asian Hitler?" on Tuesday, in which it called Japan's PM an "Asian Hitler."
The state agency added that Abe was raising fears of nuclear and missile tests from North Korea in order to divert international attention from Japan's military expansion.
"There is no difference between the fascist maniac Hitler, who waged battle against communists to justify another war, and the reckless Abe who is using a confrontation with North Korea to justify Japan's new militarist ambitions," it said.
"Ultra-rightwing groups led by Abe...are trying to shift the focus of international criticism from Japan to somewhere else," the editorial added.
Japan's government intends to revise by 2020 its constitution, which limits military activities to self defense, Prime Minister Shinzo Abe said in January. Article 9 of the Japanese constitution forbids the use of war to settle international disputes and calls for peace to be found using justice and order. The article was added to the Japanese constitution following WWII.
Tensions arose after Abe visited the Yasukuni shrine in December, which is widely regarded as a symbol of Japan's wartime aggression. It honors Japanese leaders who were convicted as war criminals for their actions in WWII. Abe was the first serving prime minister to visit the shrine in more than seven years.
The visit was widely condemned by neighboring states including North Korea, South Korea, and China. The countries considered Abe's actions a slap in the face of wartime victims.
Condemning Abe's visit to the shrine, KCNA called on the PM to "wake up" from his "militarist fever."
On Tuesday, another North Korean official newspaper - Rodong Sinmun - refueled the rhetoric by publishing commentaries saying that the PM's intentions to keep revisiting the shrine is "an open declaration that Japan would take the road of reinvading Asia by repeating the history of the past aggression."
The paper said that "what remains to be done now is to create a social atmosphere for reinvasion," adding that it would be "hypocrisy for them to assert that they will not start a war."
Regional disputes frequently fuel tensions in the region. North Korea often chides Japan over its occupation of the Korean peninsula from 1910-1945. Japan's former Prime Minister Naoto Kan has offered a "heartfelt apology" over the occupation of the Korean peninsula before the 100th anniversary in 2010. However, Tokyo declined to discuss any claims for compensation.
In turn, North Korea has been developing nuclear and missile programs that are a security concern in the region. Last year, Pyongyang brought a new wave of tensions after it launched a satellite and later tested its nuclear weapons. The UN Security Council has condemned North Korea's actions.
You can share this story on social media: