'Nazi style': Japan constitution revision proposal sparks outrage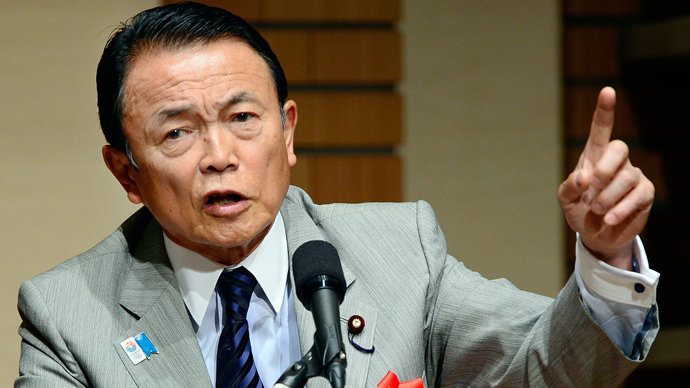 Japan's Deputy PM has called on local politicians revising the constitution to learn from Nazi Germany when it amended the Weimar charter. Although he later retracted his words neighbors Beijing and Seoul said such militaristic remarks "hurt many people".
"Germany's Weimar Constitution was changed before anyone knew. It was changed before anyone else noticed. Why don't we learn the technique," Japanese media quoted Taro Aso as saying during a far-reaching event in Tokyo.

Prime Minister Shinzo Abe's ruling Liberal Democratic Party, to which Aso also belongs, has been keen to revise the US-imposed pacifist constitution, including war-renouncing Article 9, so Japan can use the right of collective self-defense as stipulated by the UN Charter. The LDP also wants to define Japan's defense forces as a full-fledged military force amid territorial tensions with China and South Korea.

South Korea, which had suffered under Japan's past militarism, has slammed the Japanese minister's speech.

"Such remarks definitely hurt many people," the Yonhap news agency quoted South Korean Foreign Ministry spokesman Cho Tai-young as saying. "It is clear what such comments on the [Nazi] regime mean to people of the time and to those who suffered from Japan's imperialistic invasion."

On Thursday, Aso, who doubles as finance minister, took back his politically incorrect remarks, Kyodo News reported.

"I retract my remarks in which I cited (the case of) the Nazis as an example, as it has ended up leading to misunderstanding," Aso told reporters.

The minister's aides argued that his comments about how the Nazis effectively abolished the 1919 German Constitution were taken out of context. All he allegedly meant to say was that discussions over constitutional issues, including the revision of a state's national charter, should be conducted in a calm environment.

"I don't want (people) to make a decision in an uproar. . . . The Constitution should be revised based on public opinions that carefully examined the situation," Aso said, according to Kyodo News. "I don't want (people) to discuss revising the Constitution in a frenzy."

He further described the Weimar constitution as the most "progressive" in Europe at the time, albeit far from flawless. "Even under a good constitution, things like that happen," he said.

Aso has a reputation for dispensing harsh, politically charged "wisdoms." Earlier this year he suggested that elderly people should "hurry up and die" to avoid taxing the country's medical system.

You can share this story on social media: