No Turkey in EU under Erdogan – Germany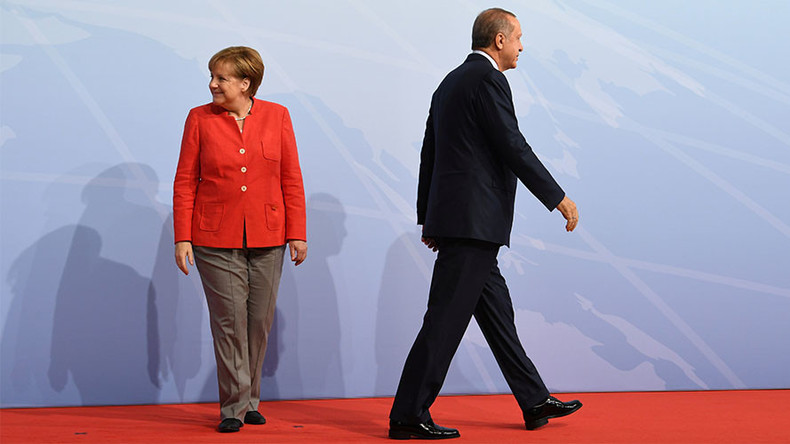 As long as Recep Tayyip Erdogan is president, Turkey will not become a member of the EU, German Foreign Minister Sigmar Gabriel pledged on Thursday – the latest in a verbal tit-for-tat between the two.
"It is clear that in this state, Turkey will never become a member of the EU," Gabriel told the newspaper Bild on Thursday. "It's not because we don't want them but because the Turkish government and Erdogan are moving fast away from everything that Europe stands for."
READ MORE: German FM accuses Erdogan supporters of harassing his wife as rift deepens
Earlier this week, Gabriel said at an election campaign rally that the majority of Turks were "democratically minded" and did not support Erdogan.
Gabriel's Turkish counterpart, Mevlut Cavusoglu, said the German minister "crossed the line" with his comments and that his "populist remarks" would not bring him any benefit.
The exchange comes after Erdogan said Gabriel should "know his place" and not criticize Ankara for what it tells ethnic Turks living in Germany. The Turkish president called on the three million Turks eligible to vote in the upcoming September general election in Germany to not support incumbent Chancellor Angela Merkel or any other party "hostile towards Turkey."
Gabriel, whose Social Democrat Party (SDP) was listed by Erdogan among those parties hostile to Turkey, accused the Turkish president of attempting to interfere in the German election.
Turkey has traditionally been friendly with Germany, but lately the two countries have been locked in a bitter war of words. Ankara's list of grievances includes the German parliament's acknowledgment of the mass killing of Armenians by the Ottoman Empire as genocide, and obstructing the Turkish government from campaigning among Turks living in Germany for the April referendum, which gave the president sweeping powers.
Berlin criticized Turkey for the crackdown launched after the failed coup last year, in which tens of thousands of people suspected of sympathizing with the plotters were arrested, lost their jobs, or were otherwise targeted. Amid the quarrel, Germany withdrew its troops and military aircraft from the Turkish Incirlik Air Base, indicating that the strain between the two NATO member states was spilling over into alliance cooperation.
Turkey has been seeking EU membership for decades, formally applying in 1984 to become a member of the European Economic Community, the predecessor of the European Union. Speeding up negotiations on the issue was one of key points of Turkey's deal with Brussels last year, under which Ankara agreed to halt the flow of refugees from the Middle East and North Africa into Europe.
You can share this story on social media: