German FM accuses Erdogan supporters of harassing his wife as rift deepens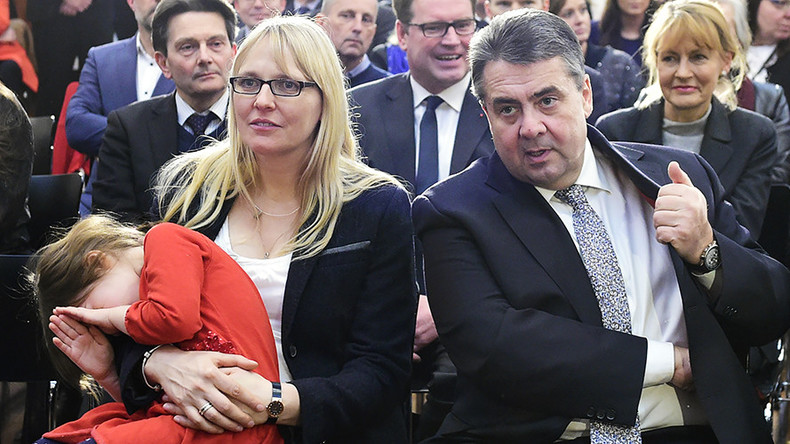 As tensions between Berlin and Ankara continue to rise, German Foreign Minister Sigmar Gabriel has said that personal verbal attacks against him by Turkish President Recep Tayyip Erdogan have prompted threats to his wife.
Gabriel's wife, Anke, was threatened by Erdogan supporters, the foreign minister said on Tuesday. Anke Gabriel, a dentist, discovered threatening messages recorded on an answering machine in her workplace, he said.
"Of course, this is a terrible outcome," Gabriel told news channel NTV. "[Erdogan] makes an undemocratic state out of Turkey."
German police, however, did not find anything criminal in the calls that Anke Gabriel received.
"The Goslar police inspectors conducted a probe into the incident, and according to the preliminary assessment, there was no criminal offense committed," the police said in a statement. They did confirm though that one call was related to "the activities of her husband."
The alleged threats against his wife could be a result of Erdogan's bitter personal attack on Gabriel himself, the official believes, as it "had apparently led some to feel motivated to try to threaten and harass my wife."
Gabriel told Erdogan that "more than half" of Turkey did not support him, referring to the narrow win in the April referendum to expand the Turkish president's powers.
"More than half the country is democratically minded," the foreign minister said on Tuesday at a campaign event for the Social Democrats (SPD), as cited by DW. "They didn't support him [Erdogan]. I believe that many in Turkey are counting on Europe and Germany supporting Turkish democracy and not looking on helplessly."
The most recent flashpoint in Turkish-German relations was sparked when Erdogan urged his "countrymen" residing in Germany not to vote for parties he branded "enemies of Turkey." Chancellor Angela Merkel's CDU party was included on the list.
"I am calling on all my countrymen in Germany... the Christian Democrats (CDU), SDP, the Green Party are all enemies of Turkey. Support those political parties who are not enemies of Turkey," Erdogan said following Friday prayers in Istanbul, as quoted by Reuters. "I call on them not to vote for those parties who have been engaged in such aggressive, disrespectful attitudes against Turkey, and I invite them to teach a lesson to those political parties at the ballot box."
The statement was met angrily by Gabriel, who branded it "an unprecedented act of interference in the sovereignty of our country."
President Erdogan then lashed out at Gabriel personally on Saturday, stating that the German official should "know his limits."
"Now they have a foreign minister who does not know his limits. Who are you to talk to the president of Turkey? Talk to the foreign minister of Turkey. Know your limits. He is trying to teach us a lesson. What is your background in politics? How old are you?" Erdogan said during his Justice and Development Party's (AKP) provincial advisory council meeting in the province of Denizli.
The angry exchange is the latest development in the ongoing spat between the two countries, which followed the botched military coup in Turkey in 2016.
Following the coup attempt, Turkey accused Germany of harboring supporters of US-based cleric Fethullah Gulen, who was named by Erdogan and his supporters as the mastermind behind the coup. Gulen, however, has firmly rejected the accusations. Last week, Erdogan claimed that Angela Merkel has failed to hand over some 4,500 suspects in the plot.
Germany has repeatedly accused Turkey of violating human rights and demanded the release of German nationals detained by Ankara over alleged "terrorism support" and participation in the coup attempt.
Relations have also suffered multiple setbacks over other issues. One of the major flashpoints was sparked last fall, when the German parliament recognized the early 20th century Armenian massacre in the Ottoman Empire as "genocide." Turkey firmly rejects the definition.
Ankara has also repeatedly prohibited German legislators from visiting troops stationed in Turkey at the Incirlik airbase. The Incirlik row ultimately led to the withdrawal of German troops from the base in June and the contingent's relocation to Jordan. Another confrontation occurred when Germany, alongside several other European countries, barred top Turkish officials from campaigning ahead of Ankara's April referendum to vastly expand presidential powers.