'Who are you? Know your limits!' Erdogan attacks German FM in elections interference row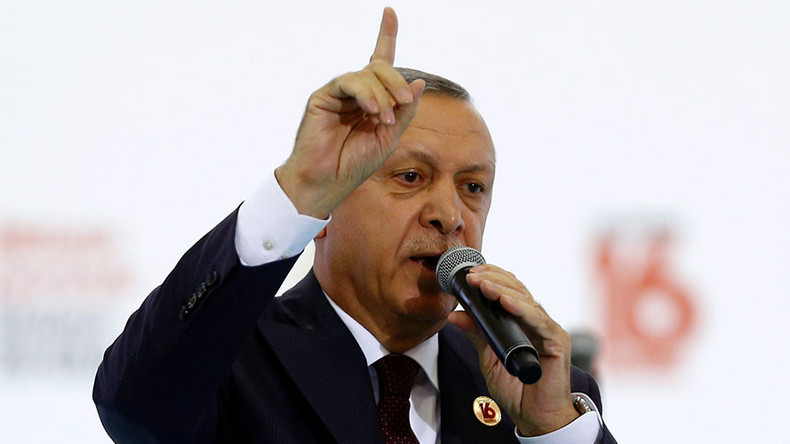 Recep Erdogan has told Germany's FM to "know his limits" after Sigmar Gabriel accused the Turkish president of interfering in the his country's upcoming elections. Erdogan once again urged German based Turks not to vote for the ruling coalition.
On Saturday, Erdogan once again urged nearly 3 million German Turks not to cast their vote for Chancellor Angela Merkel's Christian Democrats, Martin Schulz's Social Democrat Party (SDP) or the Green Party in the upcoming German federal election on September 24 because of the alleged anti-Turkish stance of the parties.
"You should give them the most beautiful lesson by providing your democratic right… You should vote for those who are not hostile to Turkey," Erdogan said Saturday, the Hurriyet daily news reported.
The message echoed Erdogan's statement made on Friday to a live television audience when he first called on Turks in Germany not to vote for the "enemies of Turkey."
Erdogan's comments sparked a strong reaction from Gabriel who accused Ankara of election interference.
"That is an unprecedented act of interference in the sovereignty of our country," Gabriel told the RedaktionsNetzwerk media group, adding: "Erdogan's interference in Germany's electoral campaign shows that he wants to incite people in Germany against each other."
Erdogan lashed out against Gabriel Saturday, telling the German diplomat to "know his limits."
"Now they have a foreign minister who does not know his limits. Who are you to talk to the President of Turkey? Talk to the Foreign Minister of Turkey. Know your limits. He is trying to teach us a lesson. What is your background in politics? How old are you?" Erdogan bellowed at his Justice and Development Party's (AKP) provincial advisory council meeting in the Aegean province of Denizli.
German-Turkish relations have deteriorated steadily during the past year. After the botched 2016 military coup, Ankara accused Berlin of harboring alleged supporters of US-based cleric Fethullah Gulen, accused by Turkish authorities of masterminding the coup attempt. Erdogan said Saturday that Chancellor Angela Merkel has failed to extradite some 4,500 suspects in the plot.
"And she wanted one or two people to be sent home by me. Forgive me but you have your legal system and so do we," Erdogan said, allegedly referring to German journalist Mesale Tolu who was arrested in May, as well as German-Turkish journalist Deniz Yucel, both of whom are accused in Turkey of alleged espionage.
The relations between the two countries have seen other flash-points too, such as the time when Turkey repeatedly denied German MPs the right to visit troops stationed at the Incirlik Airbase in Turkey. The Incirlik row ultimately led to the withdrawal of German troops in June and the contingent's relocation to Jordan. Another confrontation was when Berlin barred Turkish politicians from campaigning in Germany ahead of Ankara's April's referendum to expand presidential powers.
You can share this story on social media: