'Protected by nukes': Pyongyang-backed Russian tour agency touts 'safe & unique' trips to N. Korea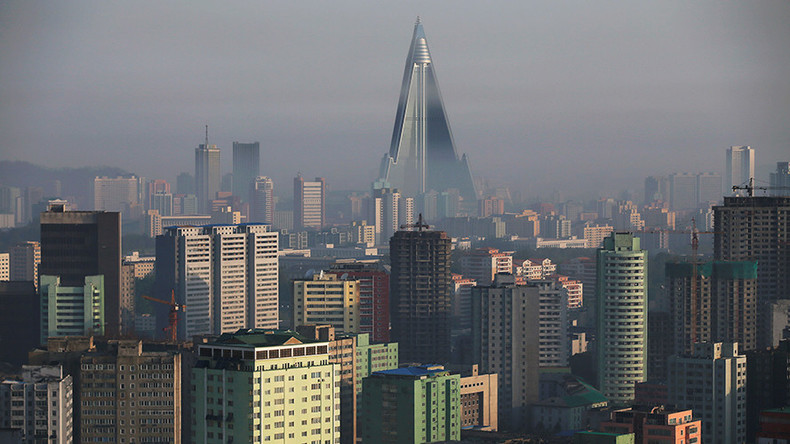 A tour operator offering Russians vacations in North Korea has opened its offices in Moscow with the full backing of Pyongyang, which has promised to protect its visitors with nuclear weapons. It says the trips are "safer than an evening stroll in London."
NKOREAN offers a variety of tours between four and 15 days for groups of up to 10 people. The most expensive is a 15-day "full immersion" trip into the secretive culture of the DPRK (Democratic People's Republic of Korea) costing 118,090 rubles ($1,997), which includes several days in Pyongyang to see the various sites and museums, trips to the mountains, caves, beaches, Buddhist temples and a communal farm, all accommodation, visa fees as well as flights to and from Vladivostok, in the Russian Far East.
The firm boasts multilingual guide tours in Russian, English, Chinese and other languages.
There are, of course, some restrictions. Prospective visitors must be subject to a background check, and on arrival will be accompanied by guides who will ensure the "adequate behavior of the tourist and guarantee their safety" at all times. In addition, taking photos of government or military facilities is "prohibited" while "long conversations with people living in North Korea are not recommended for tourists."
Some more exotic rules include "not standing at the doorstep of a house, or else you will let evil spirits in,""not talking about death, ruination or divorce" because it might bring bad luck, and not eating with your mouth closed.
NKOREAN is said to be the first Russian company officially affiliated with Pyongyang. It is not possible to enter North Korea without going through an official tour operator or being invited by the government. The number of tourists going to North Korea is still very low – according to the Russian Union of Travel Industry, only 423 Russians visited the DPRK last year, most of them from the Far East.
In the past, a number of Western tourists have gotten in trouble with the North Korean authorities. The most high-profile in recent months was the case of Otto Warmbier, a 22-year-old American sentenced to 15 years hard labor for apparently trying to steal a propaganda poster from a hotel in 2015. Warmbier was released in June 2017 but came back to the United States in a coma and died a week later, prompting the US State Department to order a travel ban to North Korea for American passport holders.
However, tourists picking NKOREAN are promised complete security with the full support of the DPRK's embassy in Moscow. In a press conference, embassy aide Kim Sen Khun said the safety of law-abiding tourists is backed by his country's nuclear arsenal.
"The DPRK, one of the safest countries in the world, fully guarantees the safety of tourists who observe the law and order of the country,"Interfax quoted him as saying, adding that Pyongyang's nuclear forces "fully guarantee security and peace on the Korean peninsula."
Meanwhile on NKOREAN's website, the trips to North Korea are touted as "otherworldly," a "unique experience" and "safer than an evening stroll in London."
Tensions are currently running high on the Korean Peninsula, however, as US President Donald Trump has stepped up his rhetoric against Pyongyang, threatening to unleash "fire and fury" earlier this month if the DPRK does not cease its nuclear and ballistic missile programs. Pyongyang responded by saying it was working on a plan to launch a medium-range ballistic missile close to the US territory of Guam, some 3,200 kilometers from North Korea. South Korea, which now houses the American THAAD missile defense system, continues irking the North by staging military drills with the US, which recently included supersonic strategic B-1 bombers.