Pyongyang VR tour provides rare insight into life in North Korea's capital (VIDEO)
Published time: 4 May, 2017 20:05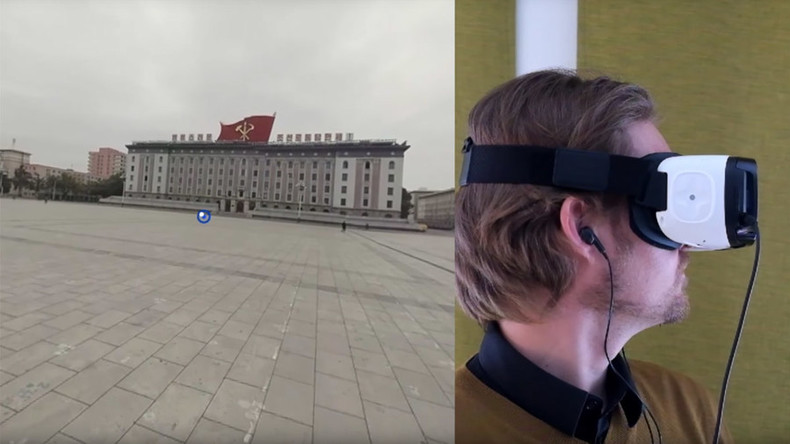 With the threat of conflict on the Korean peninsula failing to subside, a new 360-degree virtual reality tour of Pyongyang offers a fascinating insight into life in the North Korean capital.
Footage from inside the country is usually highly controlled, with most of what we see consisting of highly stage-managed military parades and weapons tests.
However, the new 360 tour allows viewers to explore Pyongyang at their own pace, getting a feel of what everyday life is like for urban North Koreans.
The tour was created by Marcus Olsson, the CEO of Swedish startup SceneThere which produces custom 360-degree videos.
"SceneThere's technology links 360 videos from different places together into a 'real virtual world', where you as a viewer can choose your point of view," the company's website says.
The Pyongyang tour offers users the chance to roam around the city's landmarks. These include Mansu Hill, where enormous statues of Kim Il-sung and Kim Jong-Il overlook the city, as well as Pyongyang Hotel, where you can check out the interior. The tour reveals some surprising sights such as children rollerblading in Kim Il-sung Square.
'Tourists' can click the blue dots on their screens to hop from one landmark to another.
Olsson recorded the footage in September 2016, during a visit to North Korea to talk to start-ups about entrepreneurship.
"I didn't know much about North Korea and all I could find online were videos of parades or official footage from the regime," Olsson said to Mashable. "So I brought my 360 cameras with the idea of making it into a VR in our platform."
The tour features a voiceover from Andray Abrahamian, a North Korean scholar based in the UK. Abrahamian provides interesting historical, political and cultural information about the sites you encounter on the tour.
Visitors to North Korea report near-constant surveillance from tour guides. Tourists' experiences are also carefully monitored to ensure nothing that could tarnish the state's reputation is seen.
Some would argue the tour is another example of carefully curated propaganda from the North Korean government. Indeed, Olsson clarifies that the tour isn't an investigative journalism project.
"We were never alone when filming," he revealed. "We were also prevented from filming an acrobatic show in a circus."
"I cannot guarantee that I was given full freedom," he told Wired. "But since I was invited as a lecturer, I was able to film in a way that would not have been possible with a tourist group, or as naturally unstaged as if I would had been a journalist."
READ MORE: Take virtual tour of downtown Pyongyang thanks to this brave Finnish reporter (VIDEO)
Recently, a journalist from Finland's Yle news agency managed to film the North Korean capital uninhibited. Running the risk of being discovered by the state's strict security regime, journalist Mika Makelainen recorded rare footage of Pyongyang on a normal day, without any of the pomp of a military parade and free from the careful curation of a tour guide.