Surgut knife attacker: What we know so far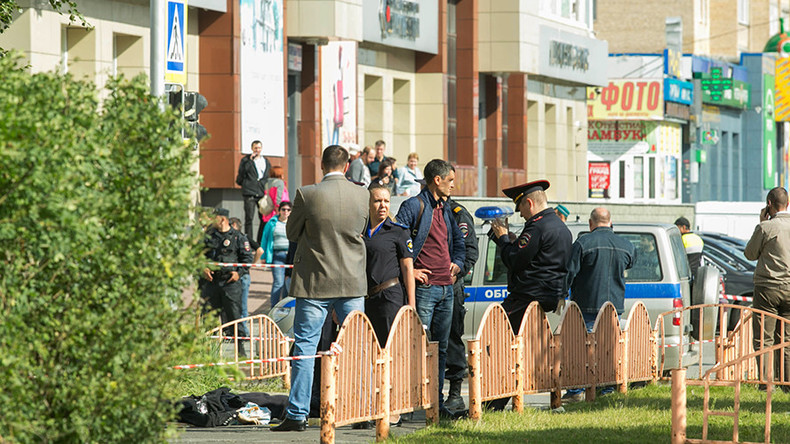 A 19-year-old attacker went on a stabbing spree in the Siberian city of Surgut, injuring seven people, with four struggling for their lives. While the suspect's identity is yet to be officially confirmed, RT looks at various media reports on the perpetrator.
A male assailant went on a rampage on Saturday morning while running along central streets of Surgut and injuring passersby with a knife before he was killed by police.
The attacker was identified by Russia's Investigative Committee as a Surgut resident. A spokeswoman for the committee, Svetlana Petrenko, said in a statement that the investigation will deploy crime scene and forensic units, as well as conduct searches of the suspect's flat.
To date, this is the only piece of information officially confirmed by authorities.
After the stabbing rampage resonated widely among the public, the Investigative Committee announced that local law enforcement agencies had handed the case over to their federal counterparts.
Son of an Islamist known to police
The 19-year-old attacker's name is reportedly Artur Gadzhiev, who comes from a family originally from the southern Russian Republic of Dagestan, various Russian media speculated citing local investigative officials.
Telegram public channel Mash also reported that Gadzhiev's father, Lametulakh, was known to police as an "extremist" and "supporter" of radical Islam.
Mash published what it said was an actual photo of Gadzhiev, whose neat appearance and smile triggered a frenzy among social media users.
Interestingly, the stabber was initially identified by some Russian media as a 23-year-old Tajikistani national by the name of Bobichel Abdurakhmanov, the claim that soon proved false.
On Sunday, a video became available allegedly showing the stabber being chased and shot dead by a policeman. The video shows a black-clad man running along the street before collapsing to the ground.
READ MORE: Images of police killing Surgut knife attacker emerge online (VIDEO)
Security guard at a local supermarket
Other claims that have also emerged locally said the suspect could have worked as security guard at a Surgut supermarket.
An activist of a grassroots group checking supermarkets for products' shelf lives claimed he recognized the assailant shot dead by police as a security officer from one of the city's chain stores.
Posting a grab from one of his videos on Russia's VKontakte (In Contact) social network, the activist alleged "this young man was employed as a security guard at a local grocery store."
The activist, who describes himself as a journalist and a cameraman, accused the authorities of silencing the fact the assailant was sane.
"A madman? Seriously? Watch the video and see the man in his right mind," he wrote, challenging authorities' statement that the suspect might have had psychiatric disorder.
4 injured in spree struggle for life
Meanwhile four people injured in the stabbing spree have sustained serious injuries, local health officials said, adding one of them is in a life-threatening condition.
"One person is in a very grave condition," an official of Surgut trauma care center told Interfax on Sunday morning, adding, "three patients are stable, but still in serious condition." Two other victims were moderately injured. One person sustained light injuries and was not hospitalized.
ISIS claims credit for attack
Law enforcement agencies did not single out terrorism as a possible primary motive at this stage. Nevertheless, Islamic State (IS, formerly ISIS/ISIL) claimed credit for the attack, Reuters reported on Saturday citing the terrorist group's Amaq news outlet.
Russian authorities reiterated later in the day that they had opened an investigation into attempted murder, adding detectives will be keeping an open mind about the assailant's true motives.
Investigators are also currently looking into causes of the incident and are trying to establish the attacker's motives.
"At the moment, the investigation is verifying all possible causes of the crime," Petrenko said.
The city of Surgut lies 2,100km (1,330 miles) northeast of Moscow in the oil-rich Khanty-Mansi Autonomous Area.
The knife attack in Surgut comes just a day after an 18-year-old Moroccan asylum seeker deliberately targeted women in a stabbing spree that left two dead in the Finnish city of Turku on Friday. He injured six other people, among them four women, before being shot in the thigh by police.
Four Moroccan nationals were detained in a Turku apartment and a local refugee reception center later in the day. Police have also issued an international arrest warrant for another person whose nationality has been withheld.