Turku knife attacker was asylum seeker, presumably targeted women – investigators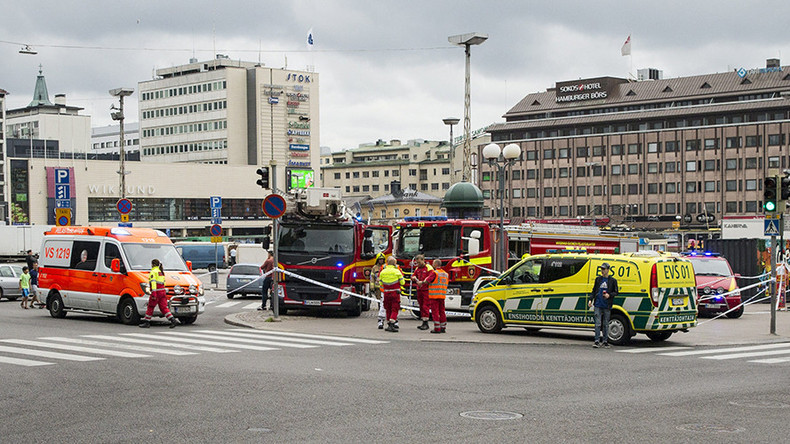 The suspect behind the deadly stabbing attack in the Finnish city of Turku was an 18-year-old Moroccan asylum-seeker, investigators said, adding that it seems the attacker deliberately targeted women.
"The suspect was seeking an asylum [in Finland]," Robin Lardot of the Central Bureau of Investigation said at a press conference on Saturday.
The attacker arrived in Finland in 2016, Lardot said, adding that it was not clear if the man was denied asylum.
READ MORE: Finland stabbing investigated as terrorist attack, suspect 18yo Moroccan – media citing police
Apart from the prime suspect, Finnish police detained four Moroccan citizens, Krista Granroth of the Central Bureau of Investigation said.
An international arrest warrant was also issued for a sixth person, she added, without disclosing the suspect's nationality.
The suspect seems to have deliberately targeted women, Granroth said, adding that both killed were women. Four of the six injured are also women, she stated, adding that the two men who were injured seemed to be protecting the women during the attack.
Two people were killed and six injured in the stabbing attack. Police shot and injured the suspect, who is now being treated in the hospital. Police will question the suspect via an interpreter later on Saturday, the authorities added.
Both of the deceased were Finnish citizens, police said earlier, as cited by Yle. UK and Italian citizens are among those injured in the attack, police and investigators say.
Finnish authorities will not raise the security alert level following the Turku stabbing, head of Finnish Security Intelligence Service Antti Pelttari said in a statement, as cited by Yle.
Meanwhile, Finnish MTV channel reported, citing a police source, that the authorities allegedly rejected the attacker's asylum application.
You can share this story on social media: