Images of police killing Surgut knife attacker emerge online (VIDEO)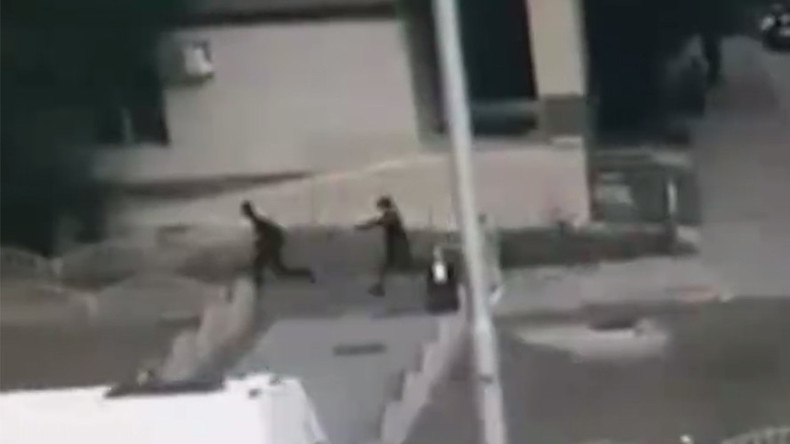 A CCTV video has emerged online showing what appears to be a suspected knife attacker being chased by an armed policeman in the Siberian city of Surgut.
The footage was published by Telegram channel Mash on Sunday, purportedly showing the stabber being chased and shot by a policeman.
The 14-second video from a roadside CCTV camera shows a black-clad man running away along the street before collapsing to the ground. The authenticity of the video cannot be immediately verified.
On Saturday the assailant stabbed seven people, four of whom are said to be in life-threatening condition.
Identified by authorities as a 19-year-old Surgut resident, the attacker was brought down by police after resisting arrest.
The man carried out attacks on passersby as he ran along a busy street in Surgut, stabbing eight people. Four of them have been treated for life-threatening wounds, local health officials said.
Another video released on Saturday shows the crime scene with the attacker's body lying on the ground. Police deployed a bomb disposal unit out of fear that he might have had a suicide belt.
Although investigators did not elaborate on whether they are treating the rampage as a terrorist attack, Islamic State (IS, formerly ISIS/ISIL) claimed credit for the attack, according to Reuters, citing the terrorist group's Amaq news.
Surgut is the largest city and provincial capital of the Khanty-Mansi Autonomous Area with a population of over 360,000. Lying 2,100km (1,330 miles) north-east of Moscow, it is a major center for oil and gas production in Russia.
You can share this story on social media: