'Declaration of war:' Hajj controversy widens row between Saudi Arabia & Qatar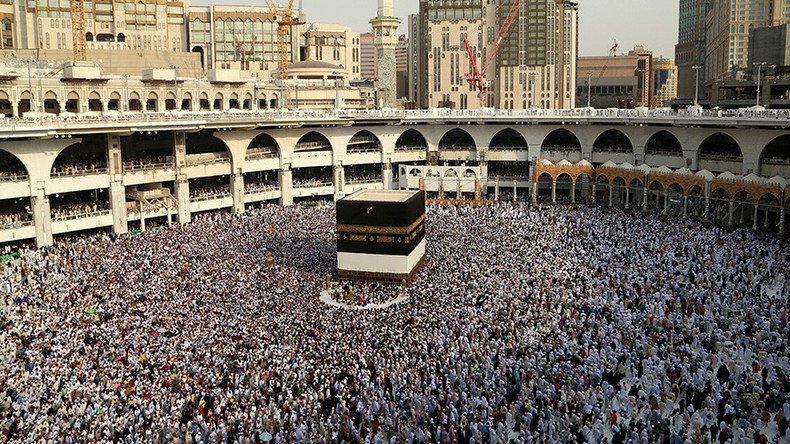 The feud between the Saudi-led block and Qatar escalated over the weekend, with Doha protesting to the UN over restrictions on its citizens flying to Mecca, and Riyadh threatening "war" over what it considers calls to "internationalize the holy sites" in Mecca and Medina.
Following a meeting Sunday of the so-called Anti-Terror Quartet (ATQ) of Arab states which are embroiled in a conflict with Qatar, Saudi foreign minister Adel al-Jubeir lashed out at Doha, accusing it of politicizing the Hajj – the annual pilgrimage to Mecca that every Muslim has to perform at least once in their lifetime.
"Qatar's request to internationalize the holy sites is an aggressive act and a declaration of war against the kingdom," al-Jubeir told the Al Arabiya channel, adding, that Saudi Arabia "reserve the right to respond to any party" promoting such demands.
It was not immediately clear when such a move was suggested, as Doha has yet to publicly call for Islam's two holiest sites to be placed under international oversight. Al-Arabiya reported that Qatari media floated the idea after Saudi Arabia enforced new rules for Qataris travelling to Mecca in view of the air blockade on Doha.
However, Qatari Foreign Minister Sheikh Mohammed bin Abdul Rahman al-Thani told Al Jazeera on Monday that Doha "never politicized the issue of Hajj" and has not tried to "internationalize the issue."
"It was Saudi Arabia trying to politicize the Hajj pilgrimage amid the Gulf crisis," he said. "There has been no suggestion by any Qatari official about internationalizing the issue."
On Saturday, Qatar's National Human Rights Commission (NHRC) lodged a complaint with the UN Special Rapporteur on freedom of belief and religion over what it called a "stark violation of international laws and agreement that guarantee the right to worship."
READ MORE: Egypt revokes visa-free travel to Qatar nationals as Turkey sends more troops
In a statement cited by Al Jazeera, the commission said it is "extremely concerned over [Saudi Arabia] politicizing religious rituals and using [Hajj] to achieve political gains" and said it was filing another claim against Riyadh with UNESCO over the maltreatment of Qataris.
Qatar's human rights commission also protested that Saudi Arabia has made it extremely difficult for many Qataris to reach Mecca by stipulating that they can only land at two Saudi airports – King Abdul Aziz International Airport in Jeddah and Prince Mohammed bin Abdul Aziz Airport in Medina.
The ban specifically targets Qatar Airways, with the Saudi authorities saying that would-be pilgrims must use other airlines for their journey. In addition, the NHRC claimed that Qataris were permitted to depart for Saudi Arabia only from Doha.
This claim, however, has been disputed by the Saudi authorities, who said that all travelers holding valid pilgrimage permits would be allowed into the country from any Qatari airport, including Doha.
READ MORE: 'Unequivocal proof:' Qatar accuses UAE of hacking its media following WaPo report
The airlines which are to carry the pilgrims will be subject to mutual approval by Doha and the Saudi civil aviation agency, Saudi Arabia's Ministry of religious affairs said in a statement last week, while confirming the ban on Qatar Airways.
Speaking following Sunday's meeting, al-Jubeir dismissed allegations that Saudi Arabia is infringing on religious freedoms, saying it "welcomes all Muslims from around the world who visit the country for their pilgrimage." He accused Qatar of blowing the issue out of proportion as a pretext to "sway people's attention from the core issue at the heart of this crisis – its [Doha's] support and funding of terrorism."
He went on to denounce the Qatari authorities for their alleged meddling in the internal affairs of other countries and for disseminating "hatred and sedition."
"It is politicizing [the] Hajj and that is not acceptable," he said, as cited by The Nation.
Al-Jubeir further reiterated that Doha must comply with all the 13 points of the ultimatum drawn up by the quartet, emphasizing that any preconditions for lifting the blockade "are not subject to negotiation."
Meanwhile, Qatar announced Sunday that it has closed registration for this year's Hajj, Al Arabiya reported, citing Qatar's Ministry of Endowments and Islamic Affairs.
The deepening diplomatic row between Qatar and several Arab nations, which have publicly accused Doha of sponsoring terrorism, resulted in an economic and travel blockade and the subsequent 13-point ultimatum. Among the demands, the quartet are insisting that Qatar stop its support for terrorists, expel the Turkish military from the country and shut down the state-funded Al Jazeera international news network.
The UAE later considered softening the Al Jazeera demand, saying the channel must still be "fundamentally reformed."
Doha has rejected the 13-point ultimatum, with Qatar defiantly speeding up the deployment of Turkish troops to the country. And in another development, the Qatari Defense Minister Khalid bin Mohammad al-Attiyah told RT Arabic Tuesday that joint drills between the Turkish, Qatari and US militaries were said to be in the final stages of preparation.
You can share this story on social media: