Turkey frees 7 journalists & newspaper execs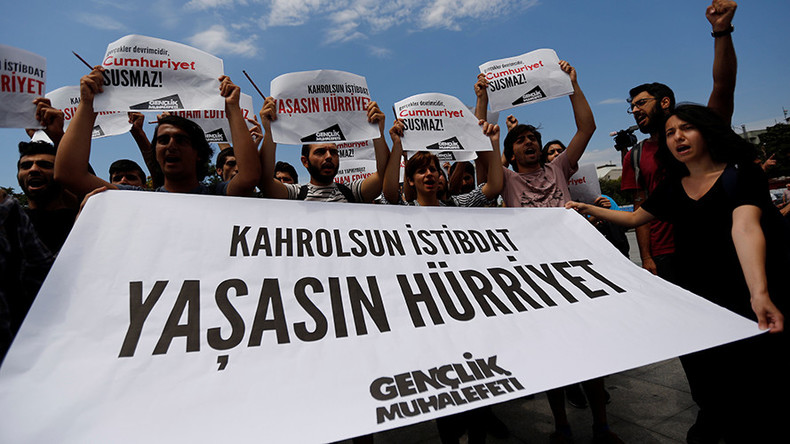 An Istanbul court has ordered the release of seven journalists and executives from opposition newspaper Cumhuriyet but five other media professionals will remain in custody pending an anti-terrorism trial scheduled for later this year.
READ MORE: Turkey says Jews should 'appreciate' Ottoman Empire, Israel says its 'days have passed'
The journalists, executives and cartoonists were all arrested on charges of "supporting terrorism," "membership of an armed terrorist organization" and "helping an armed terrorist organization while not being a member of it," reports the Daily Hurriyet.
The team from Cumhuriyet has been held for the past 270 days and, if convicted, they face a maximum penalty of 43 years in prison.
Those released Friday must present themselves at the next trial hearing scheduled for September 11.
The state prosecutor also filed a criminal complaint against Ahmet Şık, one of the journalists who has remained in jail pending trial, over his scathing testimony given in court, Amnesty International Turkey tweeted.
"Those who think that this dirty system, this crime dynasty, will last for ever are wrong," Şık said in court Wednesday as cited by The Times.
"I was a journalist yesterday. I am a journalist today. I will continue practising journalism tomorrow. That means the irreconcilable contradiction between us and those who want to strangle the truth will never end," he said.
State prosecutors also have outstanding warrants for the former-editor-in-chief Can Dündar.
"We continue to urge the government of Turkey to respect and ensure freedom of expression, fair trial guarantees, judicial independence, other human rights and fundamental freedoms, and to also release the journalists and others who we believe are being held arbitrarily under the government's state of emergency," State Department spokeswoman Heather Nauert told a daily press briefing Thursday.
"Either this oppression will end today and all Cumhuriyet laborers will be released or they will insist on the continuation of the tyranny," journalist Ceyda Karan said in a statement as cited by The Daily Hurriyet.
The Turkish government has taken a hardline stance against suspected supporters of the July 2016 failed coup attempt, in which over 240 people were killed and 2,000 injured. The violence was followed by mass arrests, with more than 50,000 people arrested and 150,000 civil servants, police officers, and soldiers fired in the aftermath.
Ankara has dismissed the criticism of the crackdown coming from Europe, with Turkish PM Binali Yildirim rejecting European Parliament President Martin Schulz's statement on Turkey "crossing the red line" against freedoms in what he said was a "purge motivated by political considerations."
"We don't care about your red line. It's the people who draw the red line… We draw another red line on top of yours," Yildirim said, adding that EU officials "always bring up press freedom when we take steps in our fight against terrorism," and claiming that Turkey has "no problem with press freedom."
Meanwhile, Turkish President Recep Tayyip Erdogan recently set off alarm bells in Europe when he suggested Ankara could "chop off the heads of those traitors," speaking on the anniversary of the coup. Erdogan said he was ready to sign a law reintroducing the death penalty if it is brought to his desk, while European Commission chief Jean-Claude Juncker warned that such a move would "slam the door" for Turkish EU membership.