Erdogan vows to 'chop off heads of traitors' at coup anniversary rally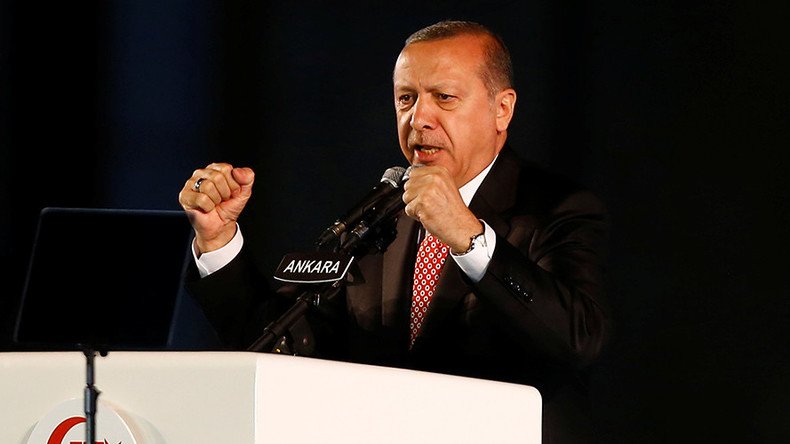 Turkish President Recep Tayyip Erdogan vowed to "chop off the heads" of traitors during a speech in Istanbul commemorating the victims of last year's botched coup attempt and celebrating the government's victory.
"First of all, we will chop off the heads of those traitors," the Turkish leaders said, addressing tens of thousands of people in Istanbul on Saturday evening, as cited by AFP.
All suspects who are currently being tried for involvement in the 2016 failed coup should wear uniforms similar to those worn by prisoners in the infamous Guantanamo Bay prison, he said.
"I spoke to the prime minister and... when they appear in court, let's make them appear in uniform suits like in Guantanamo," Erdogan said.
His statement came after one of the detainees reportedly showed up to court wearing a T-shirt with 'Hero' written on it.
Speaking in front of the presidential palace in Ankara later on Sunday morning, Erdogan promised to sign any legislation passed by parliament to restore capital punishment in the country.
"We are a state governed by rule of law. If it comes to me after parliament, I will sign it," he said.
Meanwhile, European Commission chief Jean-Claude Juncker warned Ankara against reintroducing the death penalty.
"One year after the attempted coup, Europe's hand remains outstretched," Juncker said in an interview to Germany's Bild am Sonntag newspaper. "If Turkey were to introduce the death penalty, the Turkish government would finally slam the door to EU membership."
More than 240 people were killed and over 2,000 injured in the failed coup attempt in summer 2016, according to official data.
Following the failed coup, Ankara launched a massive crackdown on alleged coup supporters, as well as opposition figures and journalists. Over 50,000 people were arrested and more than 150,000 civil servants, police officers, and soldiers dismissed as a reult.
You can share this story on social media: