Turkey commemorates 'epic victory' over coup attempt with massive rally (PHOTOS, VIDEOS)
Published time: 16 Jul, 2017 00:33
Edited time: 16 Jul, 2017 08:08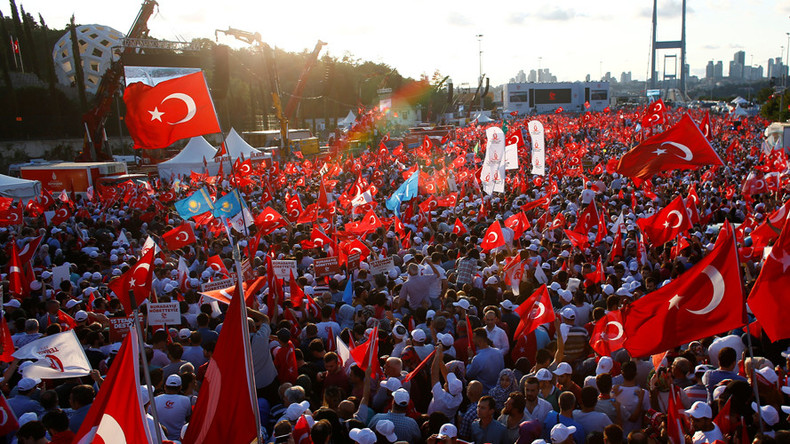 Tens of thousands of people have descended on the streets of Turkey's largest city Istanbul, celebrating victory and commemorating the victims of last year's botched coup attempt which triggered a massive opposition crackdown across the country.
People marched towards Bosporus Bridge where a tense standoff between rogue military personnel and supporters of president Recep Tayyip Erdogan occurred a year ago. The bridge has been officially renamed the July 15 Martyr's Bridge following the dramatic events on that date.
Thousands of people were seen waving Turkey's national flag as well as holding photos of coup victims. Some could be heard chanting, "We are soldiers of Tayyip [Erdogan]."
The march concluded with a massive rally in the vicinity of the bridge. The gathering was attended by Erdogan himself. The president had earlier arrived from the capital, Ankara, aboard the presidential plane escorted by an F-16 fighter jet.
"My dear citizens, I want to salute you with honor, love and heartfelt feelings," Erdogan told the crowd. "Like the day of the coup, our nation stood up with their faith against violence."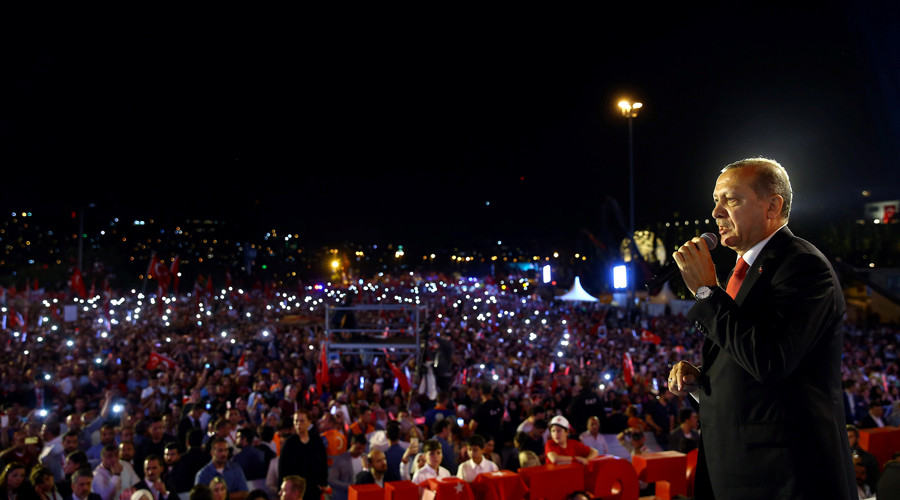 The Turkish president praised the unarmed citizens who stood up against the rogue military and their tanks. "Did our citizens have guns in their hands? Just like today, they only had flags in their hands. But they had an even stronger weapon. Their faith," Erdogan said.

Earlier Saturday, Turkey's PM Binali Yildirim called the night of July 15 a "second War of Independence" equating the historic importance of the coup defeat to the emergence of the modern Turkish state from the ruins of Ottoman Empire in the early 1920s. "It's one year since the darkest night was turned into an epic," Yildirim told a special session of parliament, launching the massive celebrations across the country.
The commemorations, demonstrating Turkish "national unity," were somewhat soured with a new announcement of the sacking of some 7,400 civil servants for their alleged links to US-based cleric Fethullah Gulen and terrorist groups in accordance with a government decree issued late Friday.

Turkish authorities pinned the blame for the coup attempt on Gulen almost immediately after last year's dramatic events. No hard evidence of his involvement has been presented, however, while Gulen himself has repeatedly denied the accusations.

Ankara launched a massive crackdown on alleged coup supporters as well as opposition figures and journalists in the aftermath of the attempted coup. Over 50,000 people have been arrested and more than 150,000 civil servants, police officers and soldiers have been dismissed.

A conspiracy theory claiming that the coup attempt was "controlled" by Ankara in a bid to set a pretext for Erdogan to get rid of his opponents took hold after the failed coup, but this assertion has been vehemently denied and rejected. "That was not a controlled coup attempt, but it was coup attempt which was averted by the Turkish people," Turkish Deputy Prime Minister Numan Kurtulmus told reporters Friday as quoted by Sputnik.

He added, "our aim is to find those who have links with this [Fethullah Gulen] organization and is supporting this organization. We are trying to purge those. We do not want to make any unfair treatment."
In the aftermath of the coup, Erdogan criticized the somewhat muted reaction of his Western allies.
NATO's Secretary General Jens Stoltenberg used the coup's anniversary as an opportunity to remind Ankara that he had promptly condemned the coup and expressed solidarity with Turkey.
"Democracy and rule of law are shared values of NATO Allies. On the first anniversary of the coup attempt in Turkey I reiterate my strong message that any attempt to undermine democracy in any of our Allied countries is unacceptable," Stoltenberg said in a statement.
More than 240 people were killed and over 2,000 injured in the failed coup attempt according to official data.