EU concerned over US bill on Russia sanctions, warns of 'unintended consequences'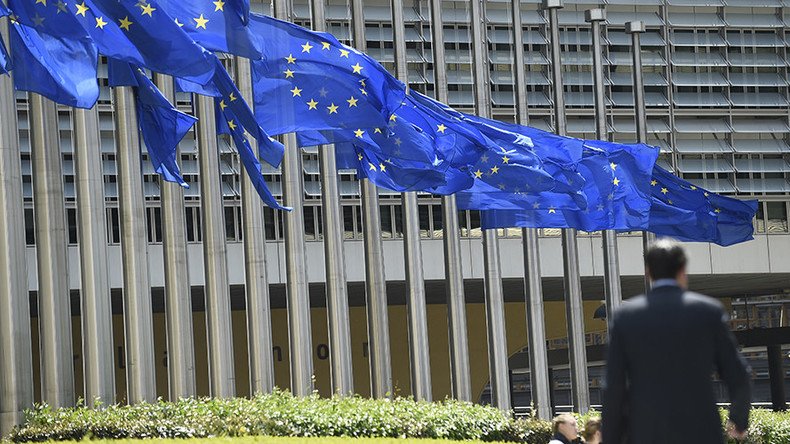 Brussels has urged US lawmakers to coordinate their anti-Russia actions with European partners, as Washington steams ahead with a new bill to expand sanctions against Moscow. "Unilateral measures" could undermine transatlantic unity and have "unintended consequences," the EU warned.
On Saturday, US Republicans and Democrats reached agreement to clear any further hurdles for proposed legislation which seeks to apply additional sanctions on Russia. The measure, if signed into law, will also give Congress veto powers to block any easing of Russian sanctions by the president.
Restrictions against Moscow are part of the Countering Iran's Destabilizing Activities Act, aimed not only at Tehran, but also North Korea. Passed by the Senate last month, the measures seek to impose new economic measures on sectors of Russia's economy.
Among the new anti-Russia proposals, the legislation aims to introduce individual sanctions for investing in Russian pipeline project. It also outlines steps to hamper construction of Russia's Gazprom's Nord Stream 2 gas pipeline project.
The House is set to vote on the proposed legislation Tuesday, with Brussels registering their unease even before the bill hits Donald Trump's desk, urging Washington to consider European interests, especially in the energy sector.
Noting that "the Russia/Iran sanctions bill is driven primarily by domestic considerations," the European Commission has asked its American partners to coordinate measures against Russia with Europe and the rest of the G7 group of leading economies.
"As we have said repeatedly, it is important that any possible new measures are coordinated between international partners to maintain unity among partners on the sanctions," the Commission said in a statement, as quoted by Reuters.
"We are concerned the measures discussed in the US Congress could have unintended consequences, not only when it comes to Transatlantic/G7 unity, but also on EU economic and energy security interests," it added.
"This impact could be potentially wide and indiscriminate," the Commission warned.
"We therefore call on the US Congress/authorities to engage with the partners, including the EU, to ensure coordination and to avoid any unintended consequences of the measures discussed."
Kremlin spokesman, Dmitry Peskov said Saturday that Moscow takes an "extremely negative" view of the new developments.
President Vladimir Putin earlier cautioned that any new sanctions against Russia will only make US-Russian relations worse.
Ahead of US lawmakers clearing all potential hurdles for the bill, a number of American multinationals – including ExxonMobil, General Electric and Boeing, as well as MasterCard and Visa – raised concerns that the punitive measures will ultimately harm their interests, rather than that of the Kremlin.
Brussels meanwhile emphasized that it's important to maintain "coordinated efforts to avoid surprises, manage potential impact on our own economic operators and address collectively efforts to circumvent such measures."
Germany and Austria in particular, have been extremely vocal following the approval of the bill by US senators last month. A joint statement issued by German foreign minister Sigmar Gabriel and Austrian chancellor Christian Kern noted the need for the 28-member bloc to expand its energy supply network.
"We can't accept the threat of illegal and extraterritorial sanctions against European companies," the politicians charged. "Europe's energy supply is a matter for Europe, and not for the United States of America."
A number of energy firms are involved in constructing the Nord Stream 2 pipeline project to pump Russian natural gas via the Baltic Sea to Germany. The pipeline is aimed at diversifying Europe's energy supply.
READ MORE: EU needs new 'detente policy' for Russia, current sanctions-based approach 'unrealistic' – German FM
Earlier this week, Gabriel suggested a gradual "step by step" lifting of the sanctions following every positive development in the Ukrainian crisis. He added that Europe should "demonstrate that [any] movement towards peace pays off."


You can share this story on social media: