EU needs new 'detente policy' for Russia, current sanctions-based approach 'unrealistic' – German FM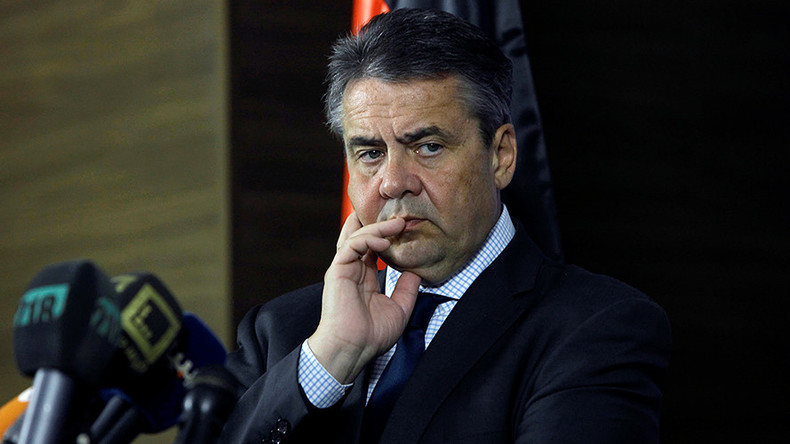 The EU policy towards Moscow, presently based on strict sanctions, is "unrealistic," the German Foreign Minister Sigmar Gabriel has said, adding, that he "ardently supports" the idea of a new "de-escalation policy" in relations between Europe and Russia.
"Why cannot we dare to lay a new foundation to the disarmament and arms control [policy] instead of rushing into a giant arms race?" Gabriel rhetorically asked, referring to the western countries' relationship with Russia, in an interview with the German Focus magazine.
"Even though it goes against many things nowadays," he "ardently supports the idea of the new eastern and détente policy" towards Russia, as advocated by then West German Chancellor Willy Brandt and aimed at normalizing relations with the Communist regimes of Eastern Europe, particularly East Germany, in the late '60s and early '70s during the Cold War era.
Gabriel also said the current European stance towards Russia envisages that anti-Russian sanctions could be lifted only after the Minsk agreement is fully implemented. This is an "unrealistic "approach, the German foreign minister underlined.
Instead, he suggests a gradual "step by step" lifting of the sanctions following every positive development in the Ukrainian crisis, regardless of how small this development could be. He added that Europe should "demonstrate that movement towards peace pays off."
Gabriel also said he would like to see less tensions in relations between Moscow and Berlin but said the Ukrainian crisis should first be resolved in order to create a climate for more friendlier relations between the two countries.
The minister recommend that "everyone" take a more empathetic approach towards Russia and try to understand Moscow's position on a range of international issues. "Putin is disappointed with the West. The EU had held association talks with Ukraine without discussing the issue with Russia," Gabriel said, adding, that "there are a lot of disappointed expectations about Germany in Russia."
'Russia is a reliable gas partner'
Gabriel also praised Russia as reliable and reasonable partner, particularly in the gas sector, adding that cooperation with Russia in that field would be profitable for Europe.
He criticized the US for its attempts to hamper gas trade between the EU and Russia and to force Europe to buy American gas instead. Gabriel said US foreign policy should not turn into an "extension of US economic policy."
"It is totally unacceptable that [the US] drives Russia further into the corner by pressing Russian gas [companies] out of Europe and forcing the Europeans to buy American gas," he told Focus, referring to a recent US bill threatening to punish European companies taking part in the construction of a Russian gas pipeline under the Nord Stream 2 project.
"Ask the French, Austrian or Dutch industries – they all want the [Nord Stream 2] project [to be successful] because Russia is a reliable gas transporter that offers reasonable price [for its services]," he added.
He also accused the US and European authorities of hypocrisy by saying that "when Russian gas flows through the pipelines owned by the Eastern European countries bringing them income then everything is in order but when it goes through a Russian pipeline directly to Germany, France, the Netherlands or Austria then the situation is somehow suddenly different."
Gabriel had already sharply criticized the US for its decision to adopt the bill – passed by the US Senate in mid-June – threatening European companies for cooperating with Russia in this project.
Following its adoption, Gabriel, on a visit to Russia, said it was "absolutely unacceptable when a bill demands that Europeans give up on Russian gas so that they could sell American [gas] instead, and at a much higher price."