Berlin to boost aviation safety amid fears hackers can hijack warplanes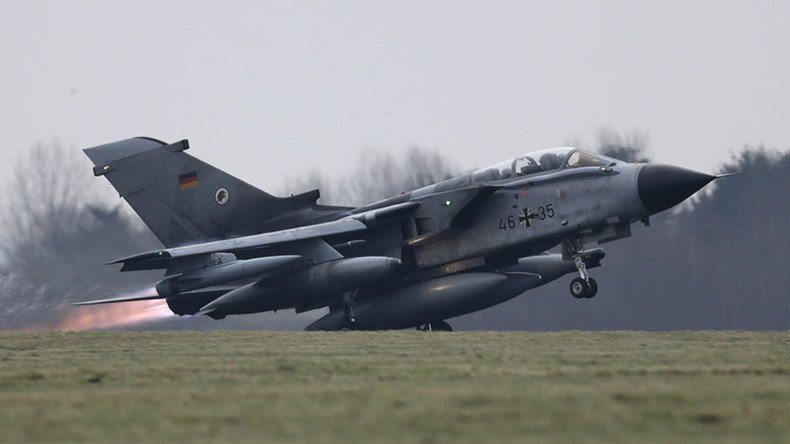 Germany's military is launching a new "aviation cyber expertise" as an urgent measure in response to a government-funded research revealing that hackers would be able to seize command of a military aircraft with equipment worth just a few thousand dollars.
The new initiative, propelled by the head of the German Military Aviation Authority, Major General Ansgar Rieks, will see military aircraft fitted with protective systems to avert potential cyber-attacks. Besides that, the government will invest in technical research and raise awareness over the threat to the aviation security stemming from hacking operations, according to Germany's Defense Ministry spokesman, cited by Reuters.
Rieks came up with the proposal after he was informed by German Aerospace Centre (DLR), which is Germany's state-funded authority for aerospace, energy and transportation research, that it does not take much to infiltrate military aircraft's system and take control of the plane.
DLR reportedly performed a demonstration showing that hostile hackers would need equipment worth no more than 5,000 euros ($5,700) to perpetrate an attack that would disrupt a military plane's operations. The revelation struck Rieks, who said that a prospective of this happening in real life in "frightening" and that staying idle in face of the challenge "would amount to gross negligence."
Speaking at a security conference in Bueckenburg, Rieks called on the military not to limit their concern for aviation safety to preventing technical problems that may occur in the software installed on board. Given the growing risks posed by cybercrime, he said one must not turn a blind eye on the possibility of a hostile cyberattack on aviation infrastructure and "ensure that airplanes cannot be taken over from the ground, or possible by a passenger in the air."
READ MORE: Germany '1st NATO member' to launch cyber command to shield from attacks, improve offensive action
Meanwhile, the German Defense Ministry has already voiced support for the establishment of a new aviation safety initiative, its spokesman said, according to Reuters.
Germany has been on forefront of the fight against cybercrime in Europe. In April, it inaugurated a 260-strong cyber command in Bonn, becoming the first NATO member to unveil a "self-contained" cyber unit. The command has officially become the fifth branch of Bundeswehr on par with army, navy, air force and medical service.
The new Cyber and Information Space (CIR) Centre was tasked with tackling cyber-attacks targeting Germany's key military IT infrastructure and computer-assisted weapons systems. It is expected that the center could employ up to 13,500 military and civilian staff once it is operating at full capacity.
READ MORE: NATO, EU countries give go-ahead to 'hybrid threat' center in Helsinki
"If the German military's networks are attacked, then we can defend ourselves. As soon as an attack endangers the functional and operational readiness of combat forces, we can respond with offensive measures," Defense Minister Ursula von der Leyen said, speaking at the opening ceremony. The center is scheduled to become combat-ready by 2021.
The center would participate in developing the latest aviation cyber security initiative, Reuters reported.
You can share this story on social media: