Macron to Putin: 'We can move to new phase in Russia-France relations'
Published time: 8 Jul, 2017 12:12
Edited time: 8 Jul, 2017 17:04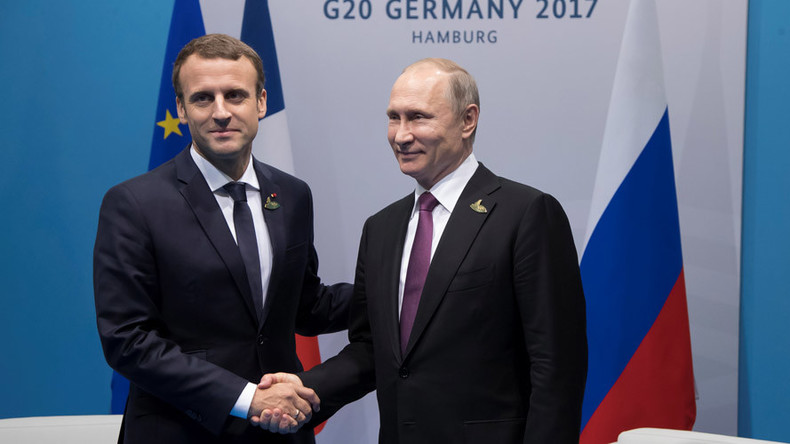 Russia and France can now move to a new phase in bilateral relations, French President Emmanuel Macron told his Russian counterpart, Vladimir Putin, on the sidelines of the G20 summit in Hamburg, Germany.
"On the subject of bilateral and regional issues, I welcome the quality and the intensity of the work that has been established since [meeting in Versailles in May]," Macron told Putin.
"So I think now we can move on to a new phase because we both saw that we were doing what we were saying," Macron concluded.
Putin said that Russia continues to implement all the Versailles agreements concerning bilateral relations between Moscow and Paris.
"We are moving towards all directions which we discussed in Versailles," he said.
Putin and Macron vowed to improve relations and jointly address international problems during their first official meeting in Versailles in May.
The French president admitted at the time, however, that he had "some disagreements" with his Russian counterpart, but said that the two leaders discussed them openly in a "frank exchange of views."
According to Macron, serious international problems cannot be resolved without Moscow. France is interested in intensifying cooperation with Russia, particularly in resolving the Syrian crisis, he said, adding that this issue demands "an inclusive political solution."
President Putin welcomed Macron's statement, saying that Moscow and Paris are determined to cooperate in resolving the crises in Syria, Ukraine and the Korean Peninsula, as well as to fight terrorism together.