Carnivore orcas hunt down 12-meter whale in dramatic rare footage from Russia (VIDEO)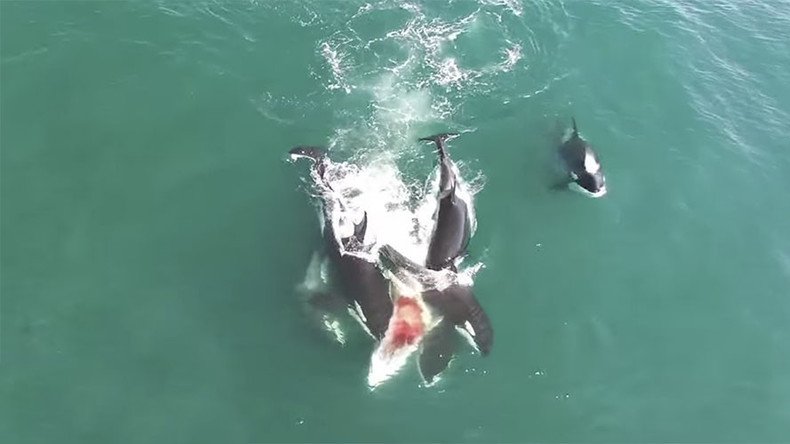 Russian scientists have captured rare footage of a group of orcas hunting down and killing a 12-meter whale just off the Kamchatka peninsula. There are only about 200 carnivore orcas in the Russian Far East, TASS reported, citing biologist Tatiana Ivkovich, a researcher from St. Petersburg State University.
"It's an amazing event. Over the course of all our work, we have once seen orcas finish eating a whale. And here we are, watching the hunt itself. Orcas ate a minke whale, it's not a big one, up to 12 meters in length," the scientist said.
In the video, the orcas are seen chasing the whale to exhaust and drown it, the researcher noted. They then seemingly tear the whale apart, with blood appearing on the surface and being seen in the whale's throat.
READ MORE: Serial killer whales remove liver, testes & stomach of great white shark (PHOTOS)
Researchers say seven grown-up orcas initially participated in the hunt, with four joining later. There were baby orcas among those hunting the whale down.
Remarkably, the scientists were also able to record the sounds that the hunting orcas were making – something of a rarity.
"It's a really exceptional case also because mammal-eating orcas are very limited in numbers, they can be rarely found and seldom come to Avachinsky Bay," Ivkovich told TASS.
"In some years, not even a single such orca is seen. In total, there are around 200 carnivorous orcas in the Far East," the biologist said, adding that piscivore (or fish-eating) orcas are much bigger in numbers, with around 800 of them living in the region.
The scientists who captured the rare moments are from the Far East Russia Orca Project (FEROP), founded in 1999.
The researchers will stay near the location where the footage was made in Avachinsky Bay for a couple of weeks, in search of orcas and whales. They will then relocate to another region in Kamchatka and stay there until the end of the summer.
You can share this story on social media: