Serial killer whales remove liver, testes & stomach of great white shark (PHOTOS)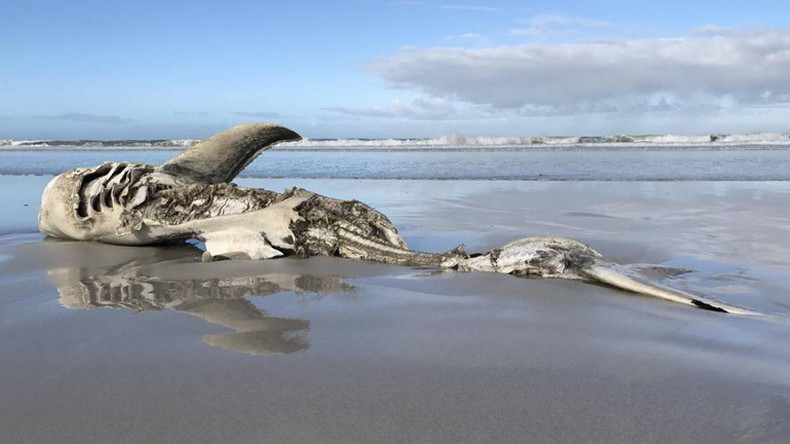 Great white sharks are usually known as the ocean's most lethal predators but recently, in the waters of South Africa, they've become the prey for a group of killer whales that are slaying the sharks with "surgical precision."
Since the beginning of May, four great whites have washed up on the shores near the South African town of Gansbaai. The latest appeared on Pearly Beach on Saturday.
WARNING: Some of these images are graphic.
The sharks appear to have fallen victim to a group of killer whales which is hunting and killing their prey in an unprecedented and highly coordinated way.
The orcas' latest victim was missing his liver, testes and stomach, which follows the modus operandi of the killer whales whose previous victims have suffered a similar fate.
"This is the fourth documented deceased white shark since May that we can connect to Orca predation," Alison Towner, a shark biologist at the Dyer Island Conservation Trust, who has been carrying out autopsies on the bodies of the slain creatures, said as cited by Marine Dynamics.
"Obviously this is a very sad time for us all, nature can be so cruel and the dexterity these enormous animals are capable of is mind blowing, almost surgical precision as they remove the squalene rich liver of the white sharks and dump their carcass," Towner said following the discovery of another shark corpse in May.
Marine Dynamics, a shark cage diving company located near Gansbaai, believes that an elusive pair of orcas, Port and Starboard, are behind the spate of killings. They were spotted close to the aptly named Danger Point, close to where their latest victim washed up on Saturday.
"All cage diving boats failed to see white sharks today and it is believed the sharks may have fled the area once again," the company said.