Long lines & chaos as passengers at Oslo Airport forced to abandon luggage (PHOTOS, VIDEO)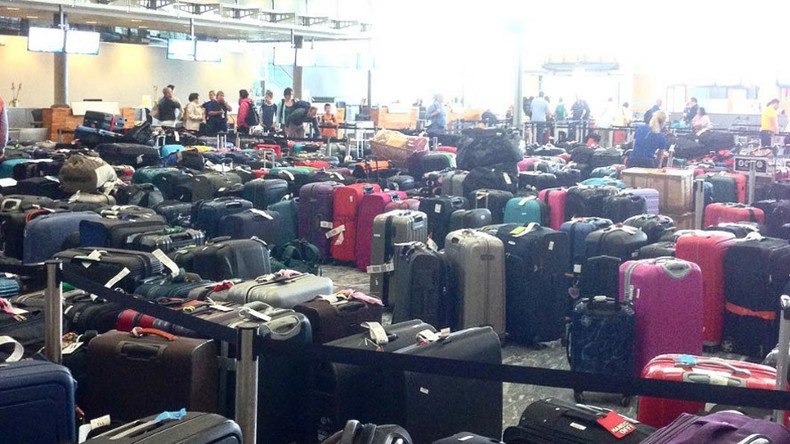 Passengers at Oslo Airport had to leave their luggage in the departure hall and wait in long lines after a technical glitch affected an X-ray machine. Photos and videos on social media show thousands of bags piled up in the hall.
The technical problem at Oslo Airport, the main international hub serving Norway's capital, started on Thursday morning, the airport said on Twitter, adding that Nordic SAS and Widerøe Airlines were the hit hardest by the glitch.
A broken X-ray machine in the old part of the terminal caused the disruptions, according to NRK broadcaster.
READ MORE: Passengers left in dark as Edinburgh Airport hit with power cut (VIDEOS)
"We have therefore not had baggage sent through to the terminal," duty manager with SAS Jens Christensen told NRK. "There are currently long queues to check in, to check in baggage and now also for security. That means that it is likely that quite a few people won't make their flights," he said at the time of the incident.
According to Christensen, the airport checked people in as usual, and then they had to leave their luggage in a departure hall, board their flights, while the luggage was sent on afterwards.
READ MORE: SAS jet makes emergency landing due to smoke in cabin
The airport operator, Avinor, told NRK that around 90,000 people were scheduled to travel on Thursday.
Later on Thursday, airport officials put mobile X-ray machines into service and started delivering luggage, mainly to Stockholm and Copenhagen, NRK said. It is not clear if the problem has been resolved.