Hezbollah warns '100s of thousands' would retaliate if conflict with Israel erupts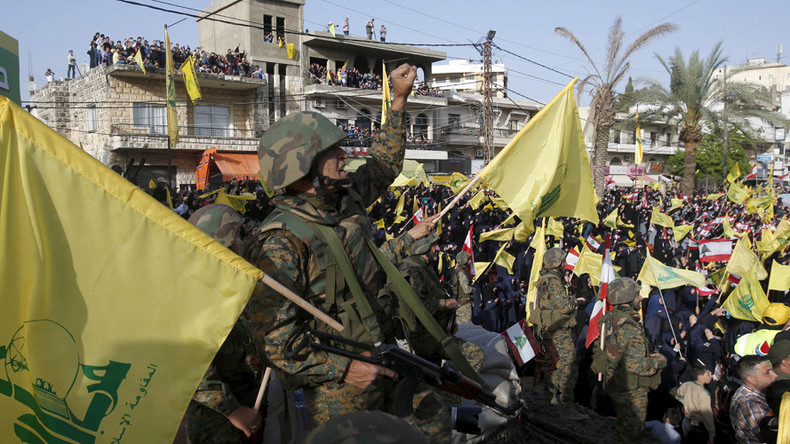 The next war with Israel would draw hundreds of thousands of fighters from across the entire Middle East, Hezbollah's leader has warned after the Israeli Air Force chief promised to drop a month's bombs in a matter of days if a new conflict breaks out.
Hassan Nasrallah delivered a televised address on Friday saying "the Israeli enemy must know that if an Israeli war is launched on Syria or Lebanon, it is not known that the fighting will remain Lebanese-Israeli, or Syrian-Israeli."
"Doors will open" for hundreds of thousands of fighters to "join the resistance" against Israel, he warned as cited by Israeli broadcaster i24NEWS.
"Everyone should know that the resistance axis is very strong and will not fail. Today there are more forces working in the area in Yemen and Iraq," Nasrallah said, adding that Pakistani, Afghan and Syrian fighters might also get involved.
The Hezbollah leader specified that he wasn't taking about the militaries of those countries, but rather volunteers, saying that a conflict with the Israelis "could open the way for fighters from all over the Arab and Islamic world to participate."
The potential conflict, he said, will be nothing like the 2006 war, which saw Israel severely damaging Lebanese civil infrastructure and led to a million people being displaced in the country. The 34 days of fighting resulted in an estimated 1,200 deaths, mainly civilians, on the Lebanese side, with over a hundred Israeli troops also killed.
In a statement in May, Nasrallah said the next war will be fought on Israeli territory, not in Lebanon, adding, that "Hezbollah soldiers and rockets can reach all the positions across the Zionist entity during any upcoming war."
Shia militant group Hezbollah, which regards neighboring Israel as is its main enemy, has amassed an arsenal of over 100,000 rockets, according to Israeli estimations.
The Israeli Air Force chief, Major-General Amir Eshel, said Israel wouldn't hesitate to use all its military might against Hezbollah and its allies. "If war breaks out in the north, we have to open with all our strength from the start," he said. He added that the increased capability of the Air Force would now require them just 48 to 60 hours to carry out the amount of bombings it performed during 34 days in 2006.
"This is potential power unimaginable in its scope, much different to what we have seen in the past and far greater than people estimate," Eshel as he attended a Herzliya security conference near Tel Aviv on Wednesday.
The Air Force chief acknowledged that the massive Israeli military involvement will lead to civilian casualties, saying, "I can't delude myself; in every war there will always be people who are harmed inadvertently."
"I have a recommendation to the people of Lebanon: Hezbollah has chosen to stay and infiltrate some of your homes. If you leave your homes as soon as the conflict erupts, you will not be harmed," he added.
Eshel also addressed the Syrian war, in which Hezbollah troops are helping the government of Bashar Assad to fight Islamic State (IS, formerly ISIS/ISIL), Jabhat al-Nusra and other armed groups. With Russia and US involved in the conflict, "the skies of the Middle East are a lot more crowded than before," he said, adding that the Israeli Air Force needed to operate "surgically" to avoid "mistakes."
Israel had previously carried out airstrikes on Syrian territory, targeting what it called Iranian arms shipments to Hezbollah, with the attacks condemned by Damascus as a violation of sovereignty which only benefits terrorists.