Israel has 'unimaginable' power to strike Hezbollah, Air Force chief tells security conference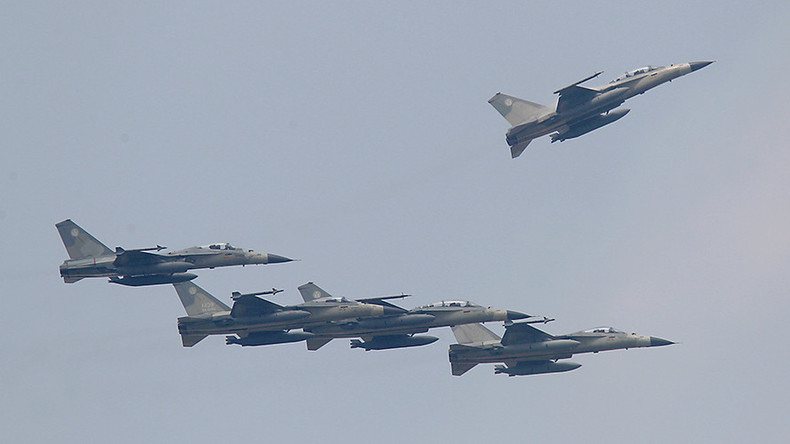 Israel has significantly increased its air superiority in the last decade following Israeli–Lebanese conflict of 2006, its Air Force chief has stated, warning Hezbollah and its allies of dire consequences should another war break out in the future.
"What the air force was able to do quantitatively in the Lebanon war over the course of 34 days we can do today in 48-60 hours," Israel Air Force Commander Major-General Amir Eshel boasted at the 17th annual Herzliya security conference.
"This is potential power unimaginable in its scope, much different to what we have seen in the past and far greater than people estimate," the air force chief said on the second day of the security conference, as quoted by the Times of Israel.
Eshel claims that Israel can now strike Hezbollah "with four to five times" the bombing power it deployed during the last conflict over a decade ago.
Tel Aviv last fought a war with Hezbollah, which Tel Aviv views as a terrorist organization that is closely aligned with Iran, in 2006. That conflict included rocket strikes inside Israel and an Israeli air and ground offensive in Lebanon. Israeli leaders have stated that since then, the Lebanon-based Hezbollah has built up and improved the range of its rockets which can now strike deeper inside the Jewish state.
"We are investing a lot in ensuring that in any future state of conflict we have full air superiority a lot faster than in the past, taking into account the capabilities of our foes in Lebanon," Eshel noted, as quoted by the Jewish Press.
While the exact number of casualties from the 2006 conflict is still unknown, it is estimated that Lebanon suffered at least 1,200 deaths, mostly civilians, from the Israeli military campaign. Should the next war break out, Israel hopes to reduce "collateral damage."
"We are doing whatever possible to reduce any collateral damage to civilians in any war, and we aspire towards zero civilian casualties," Israel's Air Force Chief said. "But I cannot delude myself, in every war there will always be people who are harmed inadvertently."
Eshel warned Lebanese civilians to flee their homes "as soon as the conflict erupts" to avoid being killed or wounded alongside Hezbollah militants who might be living or hiding among them.
Also taking the stage at the security conference, former Israeli deputy defense minister Ehpraim Sneh, suggested that the IDF should first strike Hezbollah's supporter Iran, should the next war erupt.
"Iran does not give a damn if Lebanon's infrastructure is destroyed," Sneh said as reported by the Jerusalem Post. "If Hezbollah fires at Israel... [Tel Aviv] should strike Iran's infrastructure."
Speaking at the same conference Tuesday, the Israeli Chief of General Staff, noted that Hezbollah remains Israel's main threat as it continues to receive $800 million worth of military aid from Iran annually.
"We know Hezbollah's deployment very well, it is deployed in 240 towns, and almost every house contains 3-4 Hezbollah fighters," said Lt. Gen. Gadi Eisenkot, Israeli Defense News quoted.
Eisenkot noted that the organization operates "thousands of underground sites" and "tens of thousands of rockets," which are a direct threat to Israel.
The Chief of General Staff accused Iran of aiding Hezbollah and destabilizing the entire region.
"There is an Iranian desire to create a Shiite storm from Iran to Iraq, Syria and Lebanon," Eisenkot said.
"Today there are terrorist organizations with state capabilities. This is happening because of the disintegration of countries and the fall of weapons to organizations, and because of countries like Iran that supply terrorist organizations," the chief of staff said, adding that Israel would do what is necessary to stop the passage of these weapons into Lebanon.
Israel has repeatedly been accused – but rarely admitted – of carrying out a number of strikes in Syria since 2011 targeting Hezbollah arms convoys.
In mid-March, Israel confirmed that its jets conducted airstrikes near Palmyra, allegedly destroying "advanced arms" destined for Hezbollah. In response, Syria's air defense forces fired anti-aircraft missiles at the planes as they were returning from their mission.