Kashmir mob beats Indian officer to death outside mosque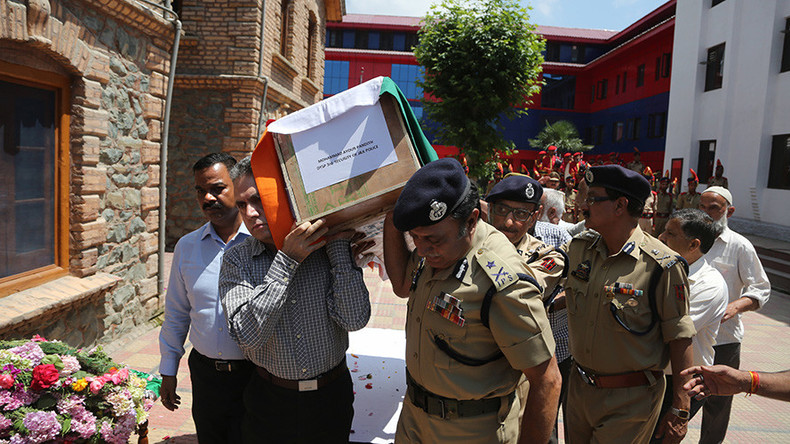 An Indian police officer was stripped and beaten to death by a mob outside a large mosque in the region of Kashmir. The officer had reportedly been taking photos of people leaving the mosque and had injured several people who wanted him to stop.
''Another police officer sacrificed his life in the line of duty. [Deputy Superintendent of Police] Mohammed Ayub Pandith of Security attacked and beaten to death by a mob at Nowhatta last night," Kashmir police wrote on Twitter, confirming the death.
The violence flared up at around 3am local time on Friday. The officer was taking photographs of people attending the Jama Masjid mosque in Srinagar, the summer capital of the Indian state of Jammu and Kashmir, police sources told the Times of India.
As a small group tried to stop Pandith, he pulled out his pistol and opened fire, injuring at least three people, PTI news agency reported citing witnesses.
Another officer sacrificed his life in line of duty DySP Mohammed Ayub Pandith of Security beaten to death by mob at #Nowhatta last night.

— J&K Police (@JmuKmrPolice) 23 июня 2017 г.
"When he came out after checking access control in the area, he was surrounded by some miscreants who started manhandling him and asking for his identification," SP Vaid, director general of police, told the Hindustan Times.
"An initial investigation revealed that there was an altercation and the officer fired to get away from the mob. He was, however, overpowered and killed..." Vaid added.
The officer was undressed and then beaten to death, according to several news outlets. The Hindustan Times also said that security guards had run away as they feared being overrun by the crowd.
After the incident, police and paramilitary forces cordoned off the gates to the Jama Masjid mosque, Greater Kashmir reports. The roads leading to the historic mosque were blocked while authorities imposed"curfew-like restrictions" throughout the area.
Kashmir, a mountainous region on India's border with Pakistan, has been the subject of heated disputes between both countries for several decades.
Both Pakistan and India claim Kashmir in their entirety, but administer separate parts of the disputed area. Clashes between protesters and Indian authorities have become commonplace amid spiraling tensions in the region.
Relations in the community also worsened over the summer last year, when India launched a crackdown on dissent in Kashmir following the killing of separatist leader Burhan Wani by security forces.
In 2015, Amnesty International said in a report that Indian law "continues to feed a cycle of impunity for human rights violations" in the region.