Indian Army major who tied Kashmir man to jeep & used him as human shield is awarded military honor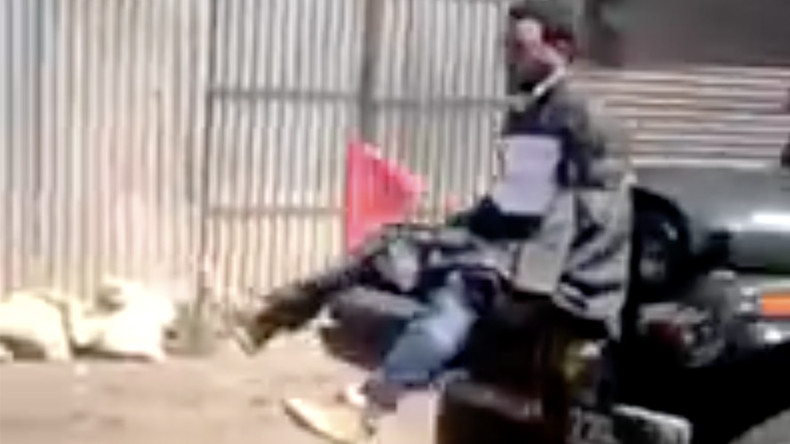 An Indian Army major who tied a man to a jeep and used him as a human shield against a stone-throwing mob in Kashmir has received a military award for his "sustained" efforts in "counter-insurgency" operations, local media report.
"Major [Leetul] Gogoi has been awarded Chief of Army Staff's Commendation Card for sustained efforts in counter-insurgency operations," army spokesperson Aman Anand said, as cited by the Times of India.
Gogoi, who serves in the 53 Rashtriya Rifles, a branch of the Indian Army under the Defense Ministry, came under the spotlight in April this year. Back then, a YouTube video showed a man tied to the front of an Indian Army jeep that was being driven around.
The video went viral and sparked massive condemnation. Responding to the outrage, army sources maintained that the man was throwing stones and that the move facilitated the safe passage of a five-vehicle convoy without a bullet being fired.
The police launched an investigation into the matter and revealed it was Gogoi who had tied the man – later identified as Farooq Ahmad Dar – to the jeep as a 'human shield.'
A court of inquiry was instituted against Gogoi but is yet to report on its findings.
The incident took place during a by-election in the parliamentary seat of the city of Srinagar, the summer capital of Jammu and Kashmir state. The Indian Army insisted Dar was hurling stones at army personnel who were boycotting the elections, a claim the man strongly denies.
"Please check my name in the list of voters, if I voted for democracy, why would I stop others from voting and pelt stones?" Dar said, as cited by the Hindustan Times.
Earlier, Dar told Amnesty International India that he was traveling to the village of Gampora, in Kashmir, on his motorcycle on April 9.
"Army personnel took my voter identity card and started beating me. Then they tied me to the front bumper of one of their jeeps… For five hours and 15 minutes, from 11am to 4:15pm, I was tied to the army jeep and was driven through different villages, for about 27km," he said.
Amnesty International said that those who were responsible for the incident should stand trial for excessive use of force and torture.
"What Farooq Ahmad Dar was subjected to is cruel, inhuman and degrading treatment amounting to torture," said Zahoor Wani, senior campaigner at Amnesty International India.
Gogoi's award drew criticism among politicians, human rights activists and people on social media. Prominent Kashmiri human rights activist Khurram Parvez called the award a "signal to people in Kashmir that India can do anything here with absolute impunity," as cited by AFP.
"This reward means India upholds torture as a means of saving lives and as a part of its counter-insurgency war in Kashmir," he added.
According to Sharad Yadav, leader of the centre-left Janata Dal United political party, the award "will further aggravate the Kashmir situation."
"[The] situation in Kashmir is critical. Any step should have been taken after the findings of the probe," he told the India.com website.
Kashmir, a mountainous border area, has been the subject of heated disputes between India and Pakistan for several decades. Both control part of the region, while claiming sovereignty over all of it. In 2015 Amnesty International said that Indian law "continues to feed a cycle of impunity for human rights violations" in the region.