Indian Army accused of using Kashmir man as human shield (VIDEO)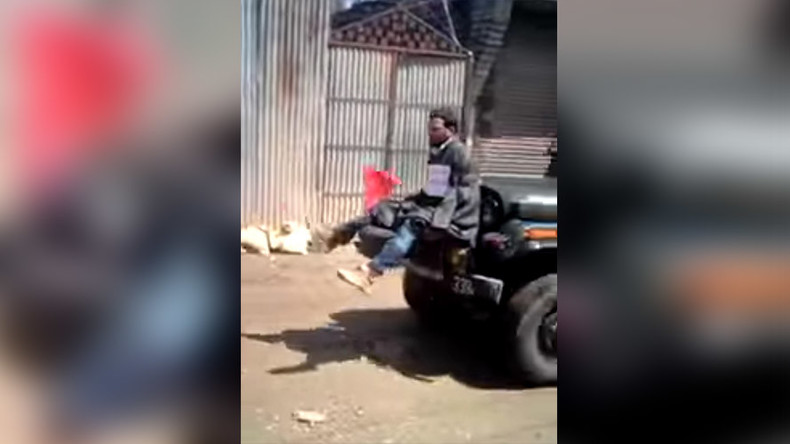 Police in Kashmir have filed a criminal complaint against the Indian Army after video emerged showing a man tied to a jeep and allegedly being used as a human shield.
Farooq Ahmad Dar said he was on his way to a funeral before being bound to the jeep and driven to at least nine villages in the region.
Charges of kidnapping and endangerment of the man's life are being considered against the army by police, NDTV reported. Security sources told NDTV that the incident took place on April 9.
The Indian Army have also begun an internal investigation into the incident, reported NDTV.
Video corroborated by RT to be the incident involving Farooq Ahmad Dar has been decried by the public in the region since emerging online.
The YouTube account containing the earliest known upload of the video to public social media was contacted by RT. The channel contains a number of videos from Kashmir showing recent violent events. Footage of this incident is not believed to have been filmed by the account owner.
The 56-second video, uploaded on April 13, shows the man tied to the jeep passing by the camera before the camera operator disperses.
Images from media and politician Omar Abdullah corroborate claims that the video was filmed in Beerwah, and that the forces involved were Indian.
Here's the video as well. A warning can be heard saying stone pelters will meet this fate. This requires an urgent inquiry & follow up NOW!! pic.twitter.com/qj1rnCVazn

— Omar Abdullah (@abdullah_omar) April 14, 2017
RT reached out to the YouTube channel and Abdullah for clarification on where the video originated, but has yet to receive a response.
Video of Farooq Ahmad Dar following the incident has been shared online, in which he shows his damaged clothes to the camera and explains that he was on the way to a funeral when the army beat him and tied him to the jeep.
Dar claimed he was not involved with separatists who are calling for a boycott of recent elections, and said that he had voted in the elections.
Security sources told NDTV that the man was used as a shield when polling officers were confronted by a mob of stone-throwers. "They would have been lynched by 400 people," the source said, claiming the man was used as a deterrent and was not harmed.
An image circulating online shows Dar on the jeep after it comes to a halt. The number 339, visible on the bumper of the jeep, matches the jeep in the video.
Beerwah lies less than 30km west of Srinagar, were eight people were killed by police on April 9 after police opened fire on protesters they claimed were throwing stones.
READ MORE: Up to 8 killed, 100 injured in Kashmir election violence, re-polling being considered