Up to 8 killed, 100 injured in Kashmir election violence, re-polling being considered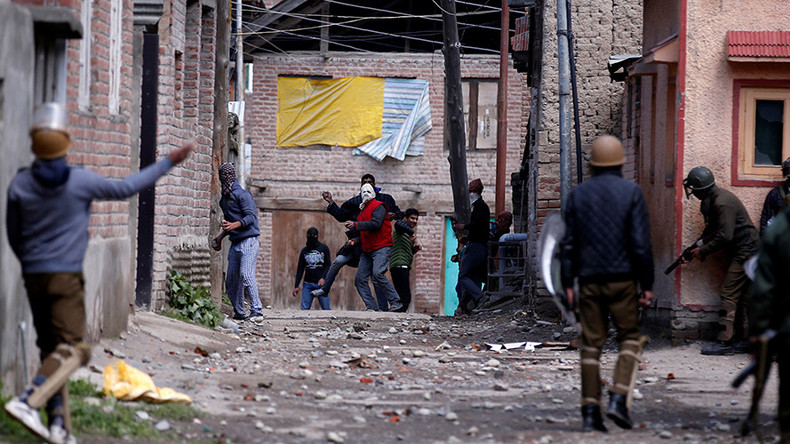 Up to eight people were killed in Srinagar, Kashmir following police clashes with protesters during Sunday's by-election which was already mired by separatist factions' calls to boycott the vote in the disputed region.
Police opened fire after tear gas failed to deter protesters throwing stones, reported Reuters. At least eight people were killed with over 100 injured following clashes which took place across central Kashmir.
Speaking to the press, the state's Chief Electoral Officer Shantmanu said more than 200 incidents of violence were reported, which included "stone-pelting, petrol bomb attacks [and the] setting ablaze of a polling station."
Separatist factions in Kashmir had called for the vote to be boycotted, prompting heightened security at polling stations.
"It was not a good day as you know. Six lives were lost in these incidents of violence... 17 civilians were injured, while over 100 paramilitary and police personnel also sustained injuries," he said. The death toll was later increased to eight, according to Indian media outlet ABP.
The tentative turnout was 6.5 percent, according to Shantmanu, who said a decision on re-polling areas disturbed by violence would be considered. ABP reported the turnout was later revised to 7.4, an all time low for the seat in Lok Sabha, India's lower house of parliament.
WATCH MORE: We want freedom': Kashmir could face biggest protest against Indian rule in recent years
"I cannot tell you exactly how many polling stations will go to repolls...it can be anywhere between 50 and 100. It is a wild guess," Shantmanu is reported to have said.
The former chief minister Farooq Abdullah from the Jammu and Kashmir National Conference Party is battling Nazir Ahmad Khan from the People's Democratic Party (PDP) for the seat.
A second by-election for a separate Lok Sabha seat will take place on April 12, with both results expected on April 15.