Jerusalem synagogue vandalized with swastikas, holy books burned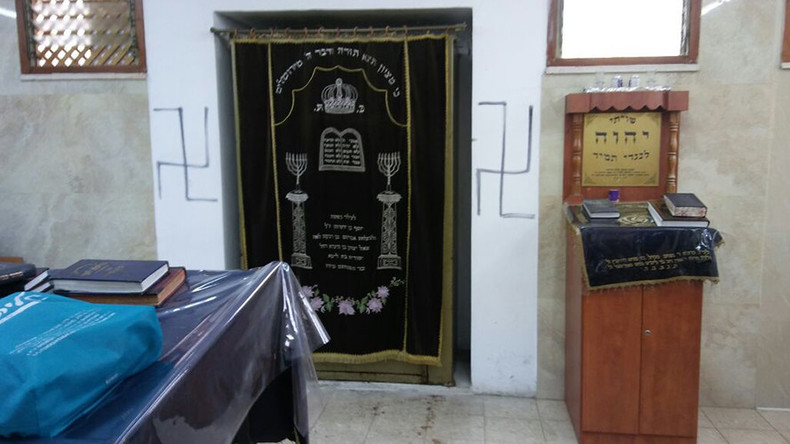 A Jerusalem synagogue was vandalized with Nazi swastikas spray-painted on the walls, police say, adding that the perpetrators also tried to burn holy books. A mentally unstable Ultra-Orthodox Haredi man was reportedly arrested in connection with the incident.
Worshippers discovered the vandalism in the Lelov synagogue in the Nachlaot neighborhood on Wednesday morning. The area is known for its many small synagogues.
"Swastikas were spray-painted on the walls of a synagogue in Jerusalem. Also there was an attempt to set fire to books," the police statement, posted on Twitter, read.
The vandals tried to set at least three Torah books on fire, the Jerusalem Post reported, adding that there were at least four swastikas painted on the walls.
READ MORE: Vandals desecrate 80% Jewish graves at small French cemetery
Chief Rabbi of Israel David Lau described the incident to the Jerusalem Post as "unthinkable."
"It is unthinkable that worshipers come to a synagogue in the heart of the holy city and discover such a terrible sight," said Lau.
Following the incident, police also found the entrances of two residential apartments vandalized with swastikas in the neighborhood, the Times of Israel reported, adding that a preliminary forensic investigation revealed that they were painted by the same people.
Later on Wednesday, police said they arrested a 38-year-old man in connection with the act of vandalism, adding that he is also suspected of other, similar acts. Police, however, have not confirmed that he also desecrated the entrances to the residential apartments.
According to Israeli media, the man was a mentally unstable Haredi Jew. Haredi is a collective term for groups of ultra-Orthodox Jews who consider themselves most religiously authentic and reject modern secular culture.
Israeli Interior Minister Arie Deri said he was "horrified" by the incident, Arutz Sheva reported.
"I was horrified to hear about the disturbing act of vandalism committed in the Lelov study hall [a part of the synagogue] in Jerusalem. This is a serious attack against all of us. It is hard to believe that a terrible hate crime like this against religious Jews could take place in the heart of the State of Israel."
READ MORE: 'We know where you live': Swedish Jewish center closed after Nazi threats
This is not the first time Israeli synagogues or places near them have been desecrated. In April this year residents of the city of the Petah Tikva were shocked to discover swastikas spray-painted near a synagogue and a market in two separate neighborhoods. In the 2000s, the Great Synagogue of Petah Tikva in the city center was vandalized on several occasions.
In November 2016, a Reform synagogue in the central Israeli city of Ra'anana was vandalized with threatening graffiti that included biblical passages, including death threats to senior Reform leaders.
You can share this story on social media: