Swastikas near synagogue & market in Israeli city leave residents in shock
Published time: 13 Apr, 2017 08:14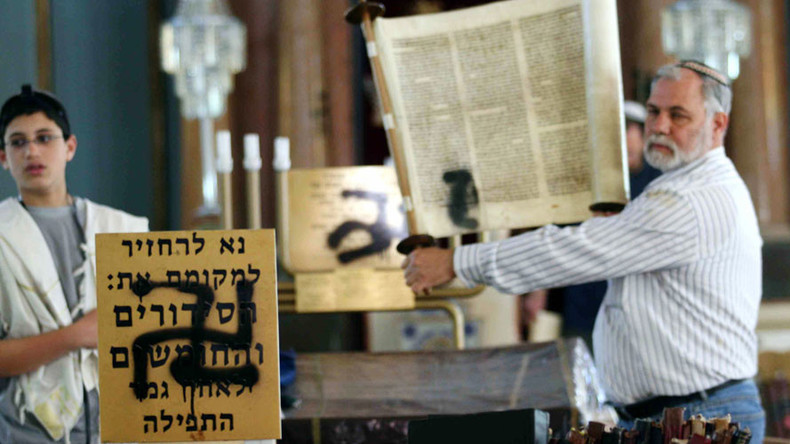 Residents of an Israeli city have been shocked and terrified by swastikas spray-painted near a synagogue and a market in two separate neighborhoods.
The anti-Semitic vandalism took place in the city of Petah Tikva in Israel's Central District 10 kilometers east of Tel Aviv on Tuesday morning, the first morning of Passover, which is a major religious holiday for Jewish people.
One of the Nazi symbols had been spray-painted on a billboard showing a map of the city, Israeli media reported, citing a municipal website.
READ MORE: Vandals desecrate 80% Jewish graves at small French cemetery
"We woke up this morning and on the way to the synagogue we encountered the graffiti with the symbol of the Nazi movement," local residents said, as cited by Arutz Sheva network.
"It was devastating to see this first thing in the morning and on the holiday, no less. To hurt the feelings of such a large sector in the city is an outrageous provocation, and someone has to take matters into their own hands and track down the perpetrators who are among us," another local told Maariv newspaper.
Shocked city residents reported the incident to the police, who have launched an investigation.
"The municipality was also updated about the act of vandalism," police said, as cited by the Jerusalem Post newspaper.
READ MORE: 'We know where you live': Swedish Jewish center closed after Nazi threats
This is not the first time Nazi symbols have been painted in this city of some 230,000 residents. In the 2000s, the Great Synagogue of Petah Tikva in the city center was vandalized on several occasions. One incident took place in 2006 when the temple's walls and even prayer books, including the Torah scroll, were desecrated with swastikas.
"We entered the synagogue… and witnessed horror, horror," the chairman of the synagogue board, Avraham Dolberg, told Haaretz newspaper at that time."People were standing there crying. They haven't witnessed such a thing in their lives: a synagogue sprayed on all sides, on all walls. There is not a single wall left without a swastika."
Also in 2006, swastikas appeared on Petach Tikva's main street.
It was later revealed that a Neo-Nazi group called Patrol 36 was behind the incidents. Its members, Russian immigrants aged 16-21, were also violently attacking the city's residents, mostly targeting migrant workers from Africa and Asia, drug addicts, gays, and Ultra-Orthodox Jews. The majority were arrested and charged back in 2007.
The city was also subjected to neo-Nazi violence in 2011 and 2015, JP reported.