Russian diplomat Voronkov becomes first UN Counterterrorism chief
Published time: 21 Jun, 2017 19:15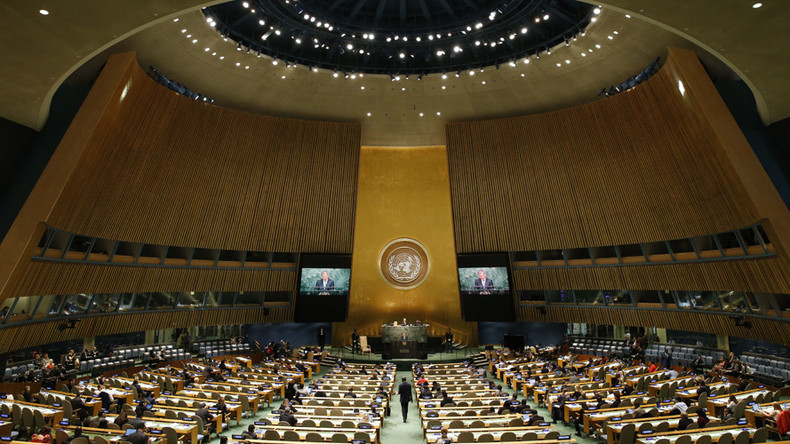 UN Secretary-General Antonio Guterres has appointed seasoned Russian diplomat, Vladimir Voronkov, to head its recently created Counterterrorism Office. Voronkov had served as Moscow's representative to UN international organizations in Vienna before his new high-level appointment.
Voronkov "will provide strategic leadership to UN counterterrorism efforts, participate in the decision-making process of the UN and ensure that the cross-cutting origins and impact of terrorism are reflected in [its] work," Guterres' deputy spokesman Farhan Haq said while announcing the appointment.
READ MORE: 'Many intl problems can't be resolved without Russia' – French President Macron
The diplomat, who has more than 30 years experience with the Russian foreign service, working primarily within the UN, will now hold the title of under-secretary-general.
"The secretary-general considers counterterrorism and prevention of violent extremism to be one of the highest priorities of the United Nations to address a growing threat to international peace and security," Guterres' spokesman Stephane Dujarric said, as quoted by AFP.
READ MORE: Syria urges UN to immediately halt US coalition strikes, which 'spread chaos & benefit terrorists'
Last week, the 193-member UN General Assembly approved the creation of the new office aimed at strengthening counterterrorism efforts which had previously been dispersed among several UN agencies and departments.
"I do believe that we have a problem of coordination of the 38 entities that within the UN deal with counterterrorism, so it makes full sense to have a dedicated office with a responsible [person]," Guterres told a news conference Tuesday.
Born in 1953, Voronkov has served as Russia's representative to the UN international organizations in Vienna since 2011. He also serves on the board of governors of the UN's global nuclear watchdog, the International Atomic Energy Agency (IAEA). Between 2005 and 2008, the diplomat held the position of Russia's deputy ambassador to the Organization for Security and Cooperation in Europe (OSCE).