3 asylum-seekers in Germany accused of violently raping woman '3 times each'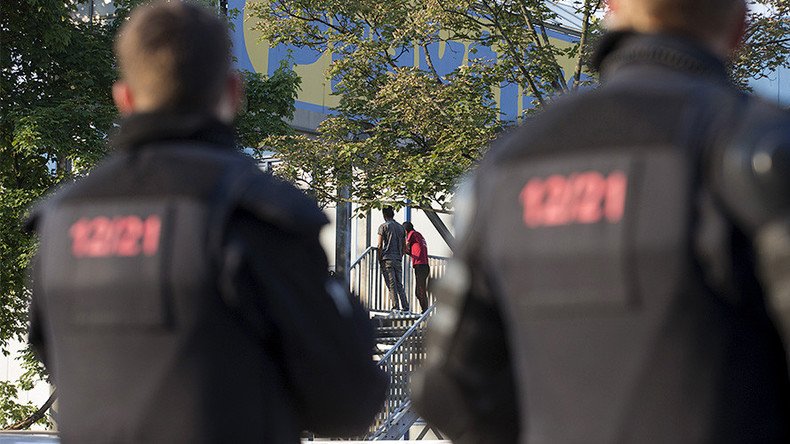 A 28-year-old woman in Muhlhausen, Germany has identified three Ethiopian men who she claims repeatedly raped and beat her during a local carnival. The victim revealed some of the horrifying details in court.
The three suspected attackers, between 23 and 29 years old, were identified by the victim in regional court in the federal state of Thuringia earlier this week.
"Each of them raped me three times," the woman said during her hours-long statement before the court, German media reported.
The victim claimed she had been lured into a secluded area near the railway station during local carnival celebrations last August. She attempted to flee, but the three suspects allegedly caught her, took her mobile phone, and forced her to engage in unprotected vaginal, anal, and oral sex.
The woman told the court she had also been beaten, kicked, and pulled by the hair by the suspected attackers, with one of them filming some of the violence with her smartphone.
The hearing became so emotional, it had to be interrupted, with the next date set for mid-July, according to media reports.
In the months-long trial, prosecutors have charged the three Ethiopian men with group rape and bodily harm based both on the victim's testimony and DNA tests, but all of them deny the accusations.
While one of the suspects claims he had consensual sex with the woman during the carnival while "very drunk," the other two claim they went to bed early that night and had no involvement in the incident.
READ MORE: 'Like a ghetto': Leipzig condo fences itself off from refugee center
The rape case in Muhlhausen, a city of around 33,000 inhabitants, is just one of many recent incidents in which refugees in Germany have been accused of sexual assault. In late March, German prosecutors charged an Afghan migrant with the murder and rape of a 19-year-old medical student in Freiburg. In the north of the country, two asylum-seekers were placed under investigation after five teenage girls claimed they were sexually harassed in a swimming pool in February.
One of the most highly-publicized incidents happened in 2015 on New Year's Eve in Cologne, with almost 1,200 criminal complaints being made to police, around 500 of which were related to sexual assault. The events in Cologne led to public outrage against German Chancellor Angela Merkel's open-door policy for refugees, as many of the sexual assaults were allegedly committed by men described as being of North African or Middle Eastern descent.
You can share this story on social media: