Refugee rapes 79yo woman at German cemetery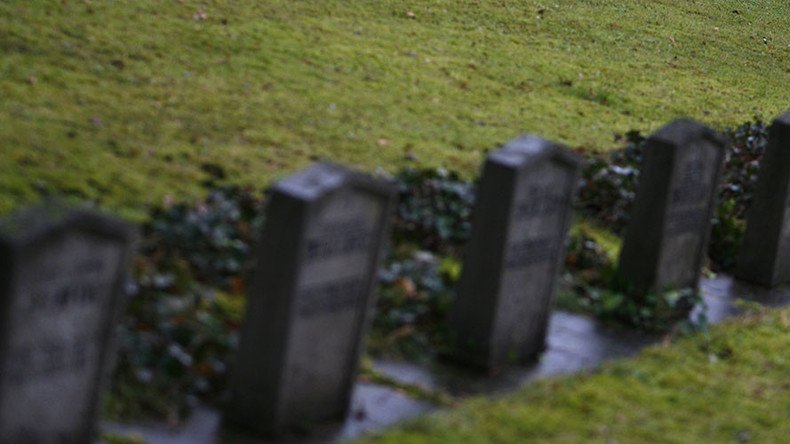 A new rape scandal is brewing in Germany after 40-year-old man from Eritrea with official refugee status was arrested as he was sexually assaulting an elderly woman at a cemetery in North Rhine-Westphalia.
The disturbing attack took place in the western German town of Iddenbueren on Sunday.
A local resident alerted the police after he heard a cry for help coming from the cemetery.
The victim, a 79-year-old boarder of a nursing home, was provided first aid before being transferred to a medical facility for treatment. She was released from the hospital on Tuesday.
The pensioner is known to visit the cemetery fairly regularly to mourn her long-dead sister, Bild reported.
READ MORE:Cologne police told to remove 'rape' from memo on NYE sexual assaults – report

The alleged perpetrator, who has been living in Germany since 2013, was charged with rape by the prosecution and placed into custody for the course of the investigation, the prosecutor's office of Munster and police for the district of Steinfurt, where the town is located, said in a joint statement.
Before being arrested, the suspect was staying at a refugee shelter in the nearby town of Horstel. The assailant did not resist the police as they arrived at the scene early on Sunday morning. He faces up to 15 years behind bars if found guilty.
A wave of sexually-related offences in Germany has triggered immense public outrage and forced authorities to review existing anti-rape laws. The most notorious incident took place during this year's New Year's Eve celebrations in Cologne, where wide-scale sexual assaults took place.
In an effort to reduce the underreporting of rape crimes, Germany's parliament introduced a new law on sexual offences earlier this month labeled "no means no," under which victims will no longer be required to prove that they physically resisted the assailant, which was mandatory for rape charges to be brought against an assailant before. The old standard led to many offences not being reported, as victims had often been intimidated into the sexual contact.
READ MORE:Hundreds of leads on possible terrorists among refugees – German police
"The change in the law will help increase the number of victims who choose to press charges, lower the number of criminal prosecutions that are shelved, and ensure sexual assaults are properly punished," said Manuela Schwesig, Germany's federal minister of family affairs, senior citizens, women and youth, in commenting on the law.
As the majority of the sexual attacks committed in Cologne were linked to men from North Africa and the Middle East, the law put special emphasis on asylum seekers and migrants involved in sexual crimes. The legislation specifies that any sexually-related conviction could be a pretext for denying refugee status and also facilitate deportation.
More than 1.1 million refugees, mostly from Syria, Iraq, and Afghanistan, entered Germany last year. The unprecedented influx has boosted the popularity of right-wing parties and created tension within German society. According to a survey conducted by pollster GfK, 83 percent of Germans now consider immigration to be country's biggest challenge – a staggering increase from last year's figure of 35 percent.
You can share this story on social media: