Space spuds: China aims to grow potatoes & raise worms on moon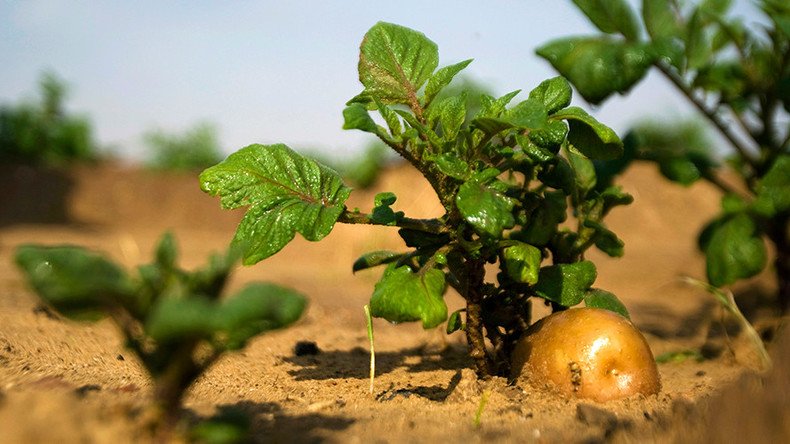 The moon could soon become one step closer to being habitable, if Chinese space authorities manage to achieve their plan of raising worms and growing potatoes in a container deployed to its surface.
The out-of-this-world idea, reportedly revealed by Chinese space authorities last week, hinges on a 3kg (6.6lb) mini-ecosystem container which would be transported to the moon's surface by the Chang'e 4 lunar lander and rover in 2018.
The container, which is being developed by research teams led by Chongqing University, "will send potatoes, arabidopsis seeds, and silkworm eggs to the surface of the moon," the container's chief designer, Zhang Yuanxun, told the Chongqing Morning Post, as quoted by the South China Morning Post.
"The eggs will hatch into silkworms, which can produce carbon dioxide, while the potatoes and seeds emit oxygen through photosynthesis. Together, they can establish a simple ecosystem on the moon," Zhang added.
Zhang realizes, however, that turning the moon into a home for potatoes and worms won't be an easy task, stating that temperature control and energy supply will be the biggest hurdles.
The moon's huge temperature range is far from ideal for plants and insects to survive, as most are only able to thrive in temperatures between 1C and 30C (33.8F to 86F). The moon's temperature, however, ranges between -170C and 120C (-274F to 248F).
To help combat that problem, the container would include an insulation layer and light pipes to support the growth of the plants and insects inside, according to the Chongqing Morning Post report. Special batteries would also be installed to provide a consistent energy supply.
Xie Gengxin, the project's chief designer, said the purpose of the mission is to prepare for future moon landings and possible human residents.
He also had an exciting announcement for space enthusiasts hoping to track the progress of the project.
"We will livestream the development of plants and insects on the lunar surface to the whole world," he said.
Meanwhile, NASA dabbled with its own potato project last year, mimicking Mars-like conditions in Peru's Atacama Desert.
A team of Dutch scientists also managed to successfully grow crops in Mars-like soil last year, announcing that at least some of them were safe to eat.
However, the biggest space-related food prize belongs to astronauts on the International Space Station (ISS) who managed to grow - and eat - 'cosmic lettuce' in 2015.
You can share this story on social media: