Vegetables harvested on Mars-like soil safe for humans – Dutch scientists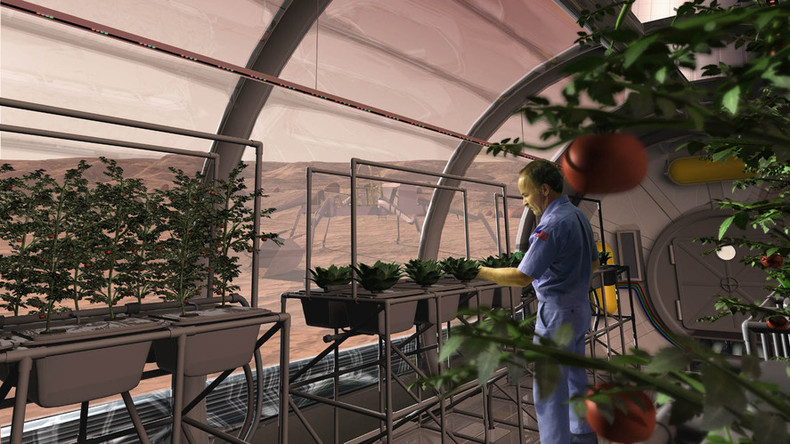 If you thought eating vegetables harvested on Mars as pictured in 'The Martian' blockbuster was fiction, you were wrong. A team of Dutch scientists has not only grown crops in soil matching that of the Red Planet, but proven it safe for human consumption.
Researchers at the Wageningen University in the Netherlands announced that out of 10 crops grown and harvested in Mars-simulating conditions, at least four – radishes, peas, rye and tomatoes - showed "no dangerous" levels of toxic elements found in the Mars soil, and are totally edible.
"We can actually eat the radishes, peas, rye and tomatoes, and I am very curious what they will taste like," ecologist and leading researcher of the project Dr. Wieger Wamelink announced in a Facebook post.
No concentrations of heavy metal content dangerous for human health have been found in the four crops, scientists said. Furthermore, preliminary analysis has shown that concentrations of some heavy metals "were even lower than in the crops grown in potting soil."
Saying that "the results are very promising," researchers added that tests for the remaining crops are yet to follow.
The experiment started in April last year. It involved 10 different crops, also including leek, spinach, garden rocket, cress, quinoa and chives.
Planted in a Mars soil simulant provided by NASA, the crops have been cultivated in Earth's atmosphere and light conditions in a glass house.
"This is because we expect that first crop growth on Mars and moon will take place in underground rooms to protect the plants from the hostile environment including cosmic radiation," Wamelink explained, as quoted by phys.org website.
Although Wamelink and his team did not find dangerous levels of toxic elements in the crops, they now need to test "if the heavy metal content is below the critical levels set by the Dutch Food agency and the US Food and Drug Administration (FDA)."
If that's a success, researchers promise to organize a meal for their sponsors.
"They will be the first to eat the 'Martian' tomatoes and taste if they have a different flavor from the normal Earth tomatoes," they said, adding that they will also look into vitamins and potentially-poisonous alkaloids before setting the table for the sponsors.
However, scientists warned that it is still "unknown if the take up of heavy metals is the same on Earth as it would be under the lower gravity conditions found on Mars." Only "on site" research could provide the answer, they said.
The research by the Dutch scientists comes as NASA is vowing a manned journey to Mars within the next 15 years. Canadian-American billionaire Elon Musk and Dutch company Mars One are also planning to create human colonies on the Red Planet.
Meanwhile, Russian scientists have been working on providing Mars explorers with safe environment, developing a self-sustaining 'Micro-Earth' project. The BIOS-3, or the Biological Support System experiment, started in the early 1960s, aims to make it possible for humans to create oxygen, water, and food in hostile space environment.