Pakistani man sentenced to death for blasphemy on Facebook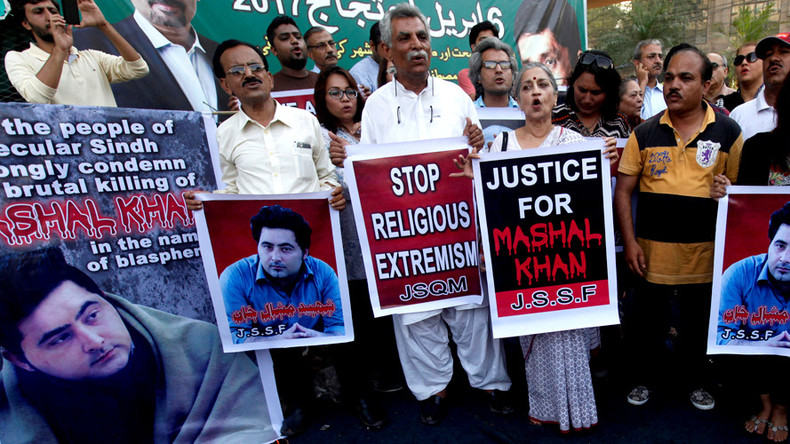 A Shiite Muslim has been sentenced to death for sharing blasphemous content about Sunni religious leaders and the Prophet Mohammed's wives on Facebook in Pakistan – the country's first conviction on charges stemming from social media.
Judge Shabbir Ahmad Awan announced the verdict on Saturday in Bahawalpur in the eastern Punjab Province, finding Taimoor Raza guilty of insulting the Prophet Mohammed. Under the country's strict blasphemy laws, anyone accused of insulting Islam and its key religious figures risks being sentenced to death.
Government prosecutor Shafiq Qureshi said local counterterrorism forces arrested Raza last year after receiving a complaint that he was showing people at a bus terminal offensive material on his cell phone, AP reported. The prosecutor said that Raza had previously posted other blasphemous material on Facebook.
His defense lawyer, Rana Fida Hussain, said Raza happened to engage in a Facebook argument about Islam with someone who turned out to be a counterterrorism department official, AFP reported.
Hussain said he would appeal the conviction.
The rivalry between Shia (estimated at 5-20 percent) and Sunni (estimated at 75-95 percent) Muslims in Pakistan dates back to the 7th century, when they had a disagreement over who should be the heir to the Prophet Mohammed.
Last month, a 10-year-old boy was fatally shot in Pakistan when an angry mob attacked a police station in an attempt to lynch a man charged with blasphemy. Prakash Kumar, a 34-year-old Hindu man, was arrested in the town of Hub, southwest Balochistan Province, accused of sharing blasphemous content on WhatsApp.
In April, a journalism student was beaten to death by a mob on his campus, after he was accused of having blasphemous views. Mashal Khan was stripped naked and beaten by an angry mob of around 10 students shouting "Allahu Akbar," according to Reuters. He was beaten so brutally that his skull eventually caved in, according to video footage obtained by the media outlet.
In March, Pakistani Prime Minister Nawaz Sharif issued an order for the removal of blasphemous content, saying that anyone who posts it should face "strict punishment under the law."
"[Blasphemy] is not only a problem for Pakistan. This is an issue about the honor of every Muslim," Interior Minister Chaudhry Nisar Ali Khan said in March.
"If we do not get a response from social media, I do not care about anyone, there is nothing greater than our faith. If social media and especially international social media stays on this route, then we will have to take strong action regarding social media," he added.
At least 65 people have been killed over blasphemy allegations since 1990, according to figures cited in a Center for Research and Security Studies report.