'Skull caved in': Pakistani journalism student beaten to death for 'blasphemy'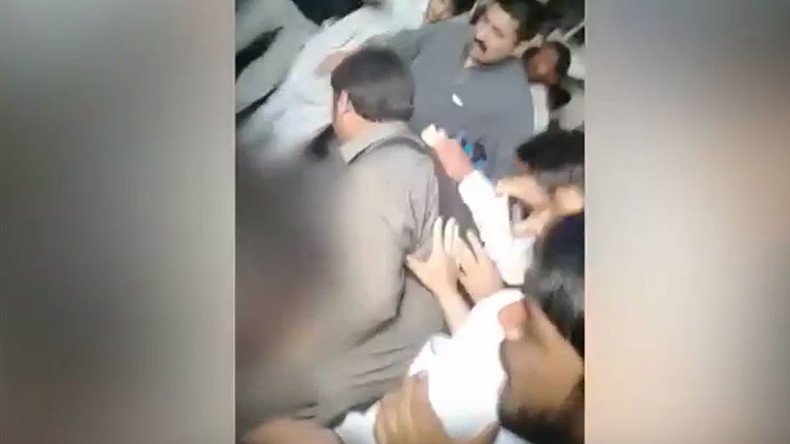 A Pakistani student has been beaten to death by a mob at his university campus, after he was accused of having blasphemous views. At least 10 people have been arrested, according to local authorities.
Mashal Khan was stripped naked and beaten by an angry mob of around 10 students shouting "Allahu Akbar" on Thursday, according to Reuters. He was beaten so brutally that his skull eventually caved in, according to video footage obtained by the media outlet.
"He was beaten with sticks, bricks and hands," senior police official Niaz Saeed told AFP, adding that hundreds of people – considerably more than the number arrested – were involved in the attack.
Sources from the university told local media that Khan was also stripped and shot, however this has not been confirmed by officials.
A video of the incident, which took place at a college campus in the northern city of Mardan, was published online by local media outlet Dawn, but later removed as "a violation of YouTube's policy prohibiting hate speech."
Reuters reported that Khan was beaten after writing social media posts which were deemed blasphemous.
However, a source told AFP that the incident occurred not because of social media posts, but because Khan had gotten into a debate about religious views on Thursday. The argument reportedly became so heated that teachers had to lock Khan in a room for his safety.
"But the enraged students grew to a mob and they attacked the room," the source said.
Local police chief Mohammad Alam Shinwari said that the students wanted to burn Khan's body after killing him, according to Reuters. However, AFP cited university sources as saying he was instead thrown from the second floor of his student residency.
Shinwari said that 10 students have been arrested following the attack, although police told AFP that 11 students had been detained. Mardan District Police Officer Dr. Mian Saeed said that at least 45 people have been arrested, according to Dawn.
Saeed confirmed that authorities are investigating the details, but that they "cannot saying anything" about the motive at this time.
Blasphemy is an extremely serious accusation in Muslim-majority Pakistan, and at least 65 people have been murdered over such allegations since 1990. Insulting the Prophet Muhammad is punished as a capital crime, and hundreds are currently on death row for allegedly doing so.
Just last month, the country's prime minister, Nawaz Sharif, issued an order for the removal of blasphemous content online, saying that anyone who posts such content should face "strict punishment under the law."
Meanwhile, Pakistani online activists believe blasphemy crackdowns on social media are attempts by the country's military to limit dissent on human rights violations.
Five online activists disappeared in January and were publicly accused of blasphemy while they were missing. Four of them have since reappeared, with at least one saying he was abducted and interrogated by Pakistan's intelligence agencies.
The country's government denied any part in the activists' disappearances.
Khan's death comes amid international calls to release Asia Bibi, a Pakistani Christian woman who was sentenced to death in 2010 for allegedly insulting the Prophet Muhammad after an argument with a group of Muslim women.
Those who stand up against alleged blasphemy are often hailed as heroes in Pakistan. In 2011, a bodyguard assassinated Punjab provincial governor Salman Taseer after the politician called for blasphemy law reforms. The killer, who was put to death last year, has been dubbed a martyr to Islam by religious hard-liners, and a shrine has been erected at his grave.
You can share this story on social media: