Arab states' rift with Qatar is 'result' of Trump's Middle East trip – Iran officials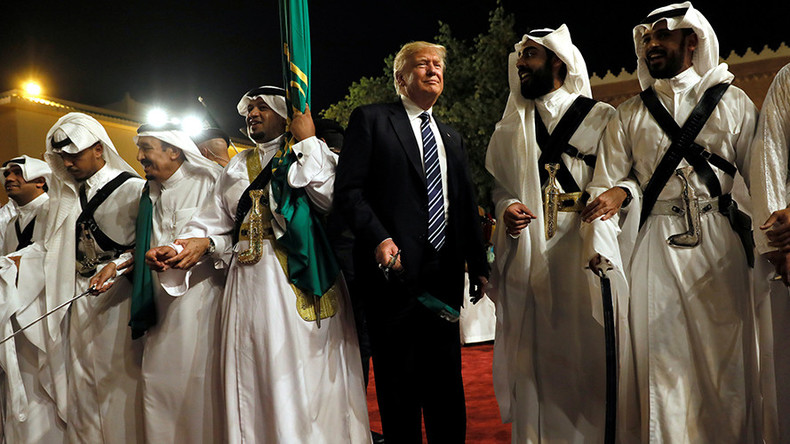 The rising tensions between Arab League states and Qatar has to do with President Trump's Middle East tour, Iran's top officials believe. Tehran has urged the countries to solve their dispute peacefully through regional dialogue and diplomacy.
"What is happening is the preliminary result of the sword dance," Deputy Chief of Staff of Iranian President Hassan Rouhani Hamid Aboutalebi tweeted, referring to a greeting ceremony in Saudi Arabia, in which US President Donald Trump took part in a traditional sword dance.
The ongoing crisis indicates that the era of foreign superpower 'Big Brothers' shaping regional coalitions is over, as "political domination, security clannishness, occupation, and invasion is not going to bring about anything other than insecurity," Aboutalebi claimed.
"The era of sanctions is over too, and cutting diplomatic ties, closing borders, laying sieges on countries, and ejecting countries out of the selfsame coalition, etc. is not the way out of the crisis," PressTV quoted the official as saying.
Chairman of the Iranian Parliament's National Security and Foreign Policy Committee Alaeddin Boroujerdi also pinned the blame for the widening rift on Trump's visit.
"The first impression of the US President Donald Trump's visit to the region is the recent tension in the countries' relations," IRNA news agency quoted Boroujerdi as saying. Boroujerdi, along with other top officials, urged Arab nations to solve the dispute through dialogue and diplomacy themselves without the involvement of any outside powers.
"The Islamic Republic of Iran has always believed, however, that regional issues should be settled by regional countries themselves," Mehr news agency quoted the official as saying.
READ MORE: Qatar spat reveals double standards: Terrorism supporters accuse others of supporting terrorism
"To resolve regional disputes and the current dispute, they should adopt peaceful methods, transparent dialogue and diplomacy," Iranian Foreign Ministry spokesman Bahram Qasemi stressed, according to Reuters. "No country in the region will benefit from the heightened tension."
Saudi Arabia, Egypt, the United Arab Emirates, and Bahrain severed ties with Qatar on Monday, accusing it of supporting and financing terrorism, namely al-Qaeda and Islamic State (IS, formerly ISIS/ISIL).