Qatar spat reveals double standards: Terrorism supporters accuse others of supporting terrorism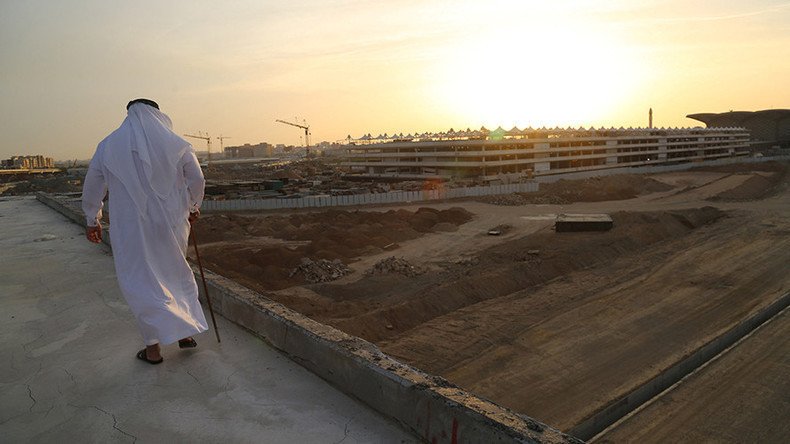 Saudi Arabia, which has played a greater role than Qatar in spreading the extremist ideology that terrorism feeds upon, is accusing Doha of harboring terrorism: that is the result of double standards we live with, political analysts told RT.
Saudi Arabia, Egypt, Bahrain, the UAE, and Yemen have severed diplomatic ties with Qatar while Saudi Arabia and Bahrain also closed their borders with the country. The five Arab nations accuse Doha of supporting terrorism and interfering in the internal affairs of Arab states.
RT asked Middle East analyst, Marwa Osman what is behind these accusations and why are they surfacing now.
"They started surfacing, to begin with, in 2011… But I think people who are harboring terrorism are now accusing other people who are also harboring terrorism of harboring terrorism. That should be a punch line of a very serious joke, but it is not. It is very risky, challenging for the entire region. We started feeling the heat between Qatar and Saudi Arabia three month ago when the affiliates that are being funded by both states started bickering and fighting each other in Syria. That was the first mark that started a war of words between them which concluded in what happened today. But they surfaced at the beginning of the so-called Arab uprisings, and Arab Spring in 2011, that had a historical background. It did show that they challenged one another since the 2011 uprisings to take control of the MENA region – who funds which group in which state starting from Tunisia ending up in Syria passing through Libya, obviously. But it all started in the 1950's. The main bickering of Saudi Arabia and Qatar started with the Saudi support for the Muslim Brotherhood and started from the Gulf War being enemies," she said.
Saudi Arabia has repeatedly been accused of sponsoring terrorism alongside Qatar. WikiLeaks leaked Clinton's 2014 email where she says both Qatar and Saudi Arabia support ISIS. RT asked Osman whether this current dispute is a bid to shift the focus to Doha.
"Yes, but to back this with more evidence, you could look at the terrorism report that was banned from being released in the UK just yesterday because it spoke directly against Saudi Arabia and pinpointed Saudi Arabia to be a funding and supporting force for terrorism in the Middle East and elsewhere. That is one piece of the evidence. Yes, they are trying to pinpoint Qatar for being the sole terrorist harboring nation in the Middle East, but that is not true," she said.
'Unprecedented spat for GCC countries'
Ali Rizk, Middle East affairs expert, described the current dispute as an example of double standards.
"Saudi Arabia, way more than Qatar, has played in propagating and spreading the extremist ideology which terrorism feeds upon," he told RT. "It's been documented time and again that it's Saudi Arabia which is the one behind the Wahhabi ideology."
He said Qatar is not very supportive of the anti-Iran agenda voiced during the Trump-led Islamic summit in Saudi Arabia as, among other reasons, it doesn't want a rise of sectarian tensions.
"Qatar wasn't very enthusiastic for what took place during Donald Trump's visit to Saudi Arabia. We saw Trump going heavily into the Saudi camp, and we saw the unprecedented hostility in language which is used by Saudi King Salman toward Iran," he told RT.
There are many reasons behind that lack of enthusiasm over that "outright hostile anti-Iran agenda" with "one of them being a natural gas field which is shared by Iran and Qatar."
Also, "maybe Qatar is more calculated when it comes to regional tensions, it doesn't want a spike in sectarian tensions."
"And hence, we have this result which indeed is unprecedented. Not just cutting off diplomatic ties, closing the land and sea border. It is something which we haven't seen especially when it comes to ties between GCC countries," Rizk said.
In his opinion, the Trump administration might be "somewhat satisfied with what happened."
"If you recall Donald Trump placed Hamas within the same framework of terrorist organizations in that speech he made in Riyadh. And Qatar has close ties with Hamas, indeed. The head of the Hamas political bureau, Khaled Mashal resides in Qatar. So, even the Trump administration, I believe, has its own fair share of differences with Qatar," Rizk said.
Meanwhile, the US Secretary of State Rex Tillerson urged the GCC countries to sort their differences.
"I think what we're witnessing is a growing list of disbelief in the countries for some time, and they've bubbled up to take action in order to have those differences addressed," Tillerson said Monday in Sydney. "We certainly would encourage the parties to sit down together and address these differences."
Washington has strong ties with both Saudi Arabia and Qatar, which hosts a US military base. The Al Udeid Air Base southwest of Doha is home to about 11,000 US military personnel.
According to Dr. Said Sadiq, American University professor, the current situation is "for sure" quite tough for Washington to be in the middle of.
"But at the same, they know that any change in the real policy in Qatar will not affect their military base by any means. This is beyond the current dispute. The American ties to the Gulf States, especially Saudi Arabia, are more important. And Qatar had a function that was serving America, the CIA, the military base. And I don't think it is going to change with any new leadership in Doha," he told RT.
Political analyst Maria Sultan suggest that "at this moment what we are looking at is actually the US role in the region and how the regional priorities have been contextualized and re-contextualized on this basis."
"There is an apprehension within the Islamic world, perhaps. Where one is idea is that the new US strategy is based toward implosion which looks at the Shia-Sunni divide within the Islamic world and particularly within the Middle East, where the battle between Iran and Saudi Arabia is polarized to the degree we see at the moment," she told RT.
The statements, views and opinions expressed in this column are solely those of the author and do not necessarily represent those of RT.
You can share this story on social media: