Key Arab League states cut ties with Qatar over 'supporting terrorism'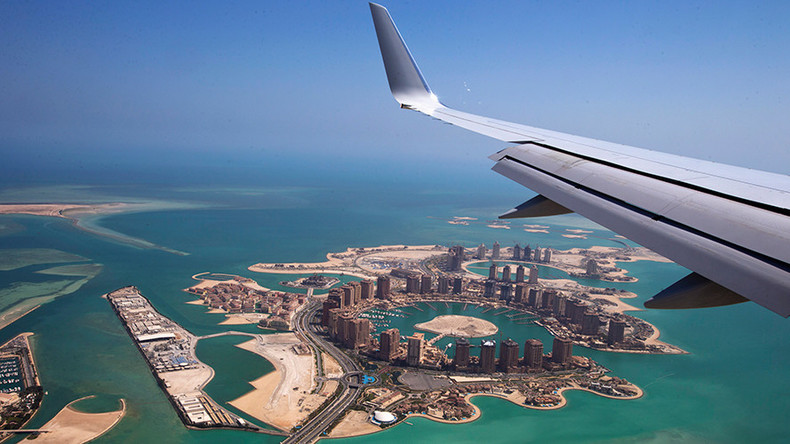 Bahrain, Saudi Arabia, Egypt, the United Arab Emirates, and Yemen have severed diplomatic ties with Qatar, accusing the country of backing terrorist groups. Qatar has called the move a "campaign of incitement" which is "based on lies."
07 June 2017

03:09 GMT

Russian President Vladimir Putin held a phone conversation with the Emir of Qatar, Tamim bin Hamad Al Thani, in which he reaffirmed Russia's firm position of pursuing dialogue and diplomacy as a means of settling crises. The conversation focused on Russian-Qatari cooperation, primarily in the trade, economic and investment areas, as well as the results of the meeting of the bilateral Intergovernmental Commission in April 2017, according to the Kremlin.

06 June 2017

22:45 GMT

The West African country of Mauritania, a member of the Arab League, has severed ties with Qatar, joining the Arab world's biggest countries in Accusing Doha of supporting Islamist terrorists and Iran, Reuters reports.

"The state of Qatar has linked its policies ... in support of terrorist organizations and the propagation of extremist ideas," said the foreign ministry's statement published in Arabic by the Mauritanian Information Agency. "This has resulted in heavy losses to human life in these Arab countries, in Europe and throughout the world."

18:46 GMT

Maersk, the world's biggest container shipping line, has announced that it can no longer transport goods in or out of Qatar as a result of the trade restrictions imposed by neighboring Arab countries. The company is looking into other routes such as Oman.

13:01 GMT

The Philippines on Tuesday halted the deployment of workers to Qatar. Labor chief Silvestre Bello said Manila was taking precautions as it fears that problems like food shortages could affect the more than 200,000 Filipinos in Qatar should the crisis worsen.

"We are foreseeing a possible problem in Qatar," Bello said. "We know for a fact that Qatar does not produce its own food. If anything happens that they run out of food and food riots will take place, definitely our [overseas Filipino workers]... will be the first victims," he said as cited by AFP.

12:37 GMT

The French Foreign Ministry has stated that Paris wants the diplomatic row between Arab states and Qatar to be resolved through dialogue.

"France wishes that the current tensions are resolved through dialogue," the Foreign Ministry told reporters in a daily online briefing, as quoted by Reuters.

Foreign Minister Jean-Yves Le Drian is scheduled to hold talk with his Saudi and Qatari counterparts later on Tuesday, and with a representative of Abu Dhabi's crown prince on Wednesday, according to the ministry. He will also travel to Egypt on Thursday.

12:36 GMT

US President Donald Trump has tweeted that during his trip to the Middle East, he "stated that there can no longer be funding of radical ideology," adding that "leaders pointed to Qatar."

10:47 GMT

Saudi Arabia has revoked the license of Qatar Airways and ordered its offices to close within 48 hours, Saudi SPA state agency reported.

"The General Authority of Civil Aviation has decided to cancel all licenses granted to Qatar Airways and to close all of its offices in the kingdom within 48 hours," the statement said.

09:15 GMT

French Justice Minister Francois Bayrou said Paris should end tax breaks on property deals which are granted to nations, including Qatar.

"Under the responsibility of [President] Nicolas Sarkozy, France gave Qatar an incredible tax advantage," Bayrou told BFM TV. "Can this situation continue? I don't think so. I think it's very important that in France we have tax fairness."

09:04 GMT

Kuwait's Emir Sheikh Sabah Al-Ahmad Al-Jaber al-Sabah will travel to Saudi Arabia on Tuesday for talks with King Salman over the recent diplomatic crisis with Qatar, Reuters reports.

Earlier Kuwait's leader held a phone conversation with Qatar's Emir Sheikh Tamim bin Hamad Al-Thani and urged him "to exercise self-restraint and refrain from steps that would escalate the situation," Kuwaiti Kuna news agency said.

08:46 GMT

The United Arab Emirates said Qatar should provide a "guaranteed roadmap" before it would consider mending ties with Doha.

"We need a guaranteed roadmap to rebuild confidence after our covenants were broken," UAE Minister of State for Foreign Affairs Anwar Gargash tweeted.