Charges mulled against Wilders over anti-Islam tirade implying Koran incites terrorism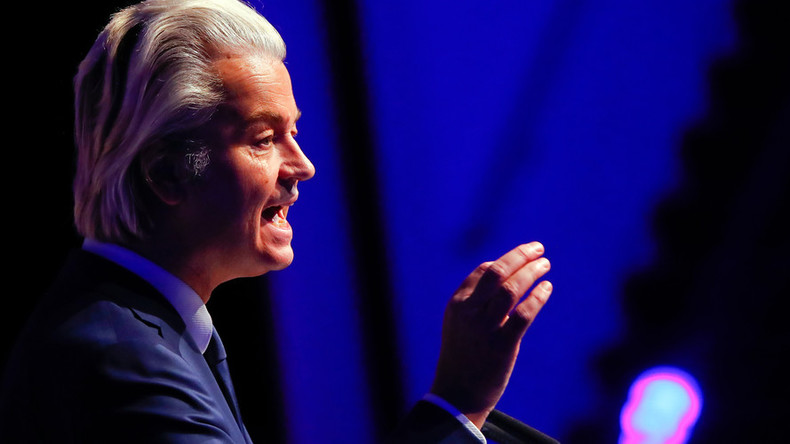 Dutch prosecutors are looking into the speech delivered by far-right Party for Freedom (PVV) leader Geert Wilders, in which he slammed Islam as an "ideology of war and hatred." Wilders says he's being targeted for "speaking the truth."
Wilders, whose PPV came second in Dutch parliamentary elections in March, faces charges of incitement in the complaint filed by the human rights advocacy group back in March 2015, when he claimed that Islam "calls on people to be terrorists" and "be violent" and that the "Koran leaves no doubt about it."
The provocative statements made by Wilders during a speech at the conference of PPV's Austrian ally Freedom Party (FPO) drew ire of the local Austrian Muslim Initiative (AMI) group. Its chairman, Tarafa Baghajati, lodged a criminal complaint against Wilders, accusing him of resorting to "Nazi rhetoric of the 1930s," Dutch News.nl reported.
"They (Austrian prosecutors) must now investigate whether Wilders has committed nation incitement and whether he insulted Islam as a religion," Baghajati told Der Telegraaf at the time.
Acting on the complaint, Austria investigators opened a probe into Wilders' remarks. On Friday, Dutch public prosecutor's spokesman revealed that Austrian authorities appealed to their Dutch colleagues to take over the case. Confirming that the prosecutors in the Hague have been "busy studying" the request, he said it is not clear yet if the formal investigation is to be launched into the controversial statements.
Explaining their decision to ditch the dragged-on probe, Austrian prosecutors said it was a result of "practical consideration."
Meanwhile, Wilders hit back at the Dutch prosecutors, saying that instead of tackling crime and fighting terrorism, they focus on hunting "a politician for speaking the truth about Islam," he wrote on Twitter, accompanying the message with #legaljihad hashtag.
In his March 2015 speech, which has now become subject to scrutiny, Wilders already called out the authorities for clamping down on him while turning a blind eye on a threat arising from Islamic extremism.
"When we warn against Islam, the authorities call it hate speech and bring us to court. But when the grim forces of hatred march down our streets, the police look on and do not interfere," he said, calling the approach "a disgrace" and "a scandal."
READ MORE: Far-right Wilders targets 'Moroccan scum' in his election campaign launch in the Netherlands (VIDEO)
Wilders, a far-right politician who has repeatedly courted controversy inside and outside his country by calling freedom and Islam "not compatible," has also likened the Koran to Hitler's Mein Kampf.
In December last year, he was found guilty of discrimination against Moroccans in the Netherlands. In 2014, he asked his supporters at a rally, if they want fewer or more Moroccans on the streets, provoking a chant: "Fewer! Fewer! Fewer!"
Wilders denouncing the ruling, which however does not impose any punishment on him, as politically motivated, calling it "madness" carried out by "three PVV hating judges."