Far-right Wilders targets 'Moroccan scum' in his election campaign launch in the Netherlands (VIDEO)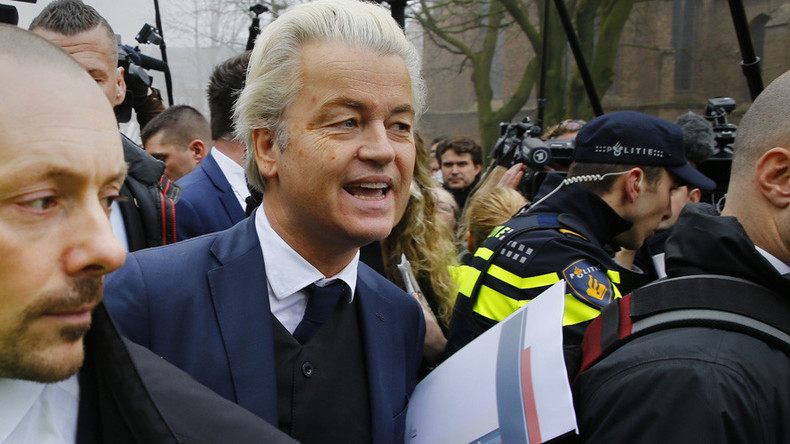 As the Netherlands gears up for its general election in March, Dutch far-right politician Geert Wilders is laying out his stall to the electorate, including a promise to crack down on "Moroccan scum" in the country.
During a campaign walkabout on Saturday in the town of Spijkenisse, described by Reuters as an "ethnically diverse industrial area," Wilders, flanked by security personnel, reporters, supporters, and protesters, raised the issue of "the Islamisation of our country."
"The Moroccan scum in Holland... once again not all are scum... but there is a lot of Moroccan scum in Holland who make the streets unsafe, mostly young people... and that should change," he told reporters.
"If you want to regain your country, if you want to make the Netherlands for the people of the Netherlands, your own home, again, then you can only vote for one party."
The Freedom Party leader tweeted a link to an article detailing his remarks, as well as numerous pictures of him with his supporters.
Wilders was convicted in December of discrimination and inciting hatred by a Dutch court after calling for "Fewer! Fewer! Fewer!" Moroccans in the country, as well as calling them "scum."
Despite his controversial statements, Wilders and the Freedom Party lead opinion polls with 17 percent, ahead of the March 15 election. His party's top priorities are to ban Muslim immigration, shut down all mosques and to leave the European Union.
"Despite all the hate and fear-mongering of the elite both in Britain and Brussels, people took their fate in their own hands," he said. "I think that will happen in Holland, in France, Austria and in Germany."
READ MORE: 'Trump has already done more than entire EU ever to curb mass migration' – Dutch far-right leader
His views have angered many of his political rivals, however, with Dutch Prime Minister Mark Rutte attacking Wilders and his party last month in an advert published in a number of newspapers.
"If you live in a country where you get so annoyed with how we deal each other, you have a choice. Get out! You don't have to be here!" the advert read.
READ MORE: 'Act normal, or leave the country': Dutch PM ups the ante ahead of general election
You can share this story on social media: