Japanese, US militaries launch major joint drills amid growing N. Korea tensions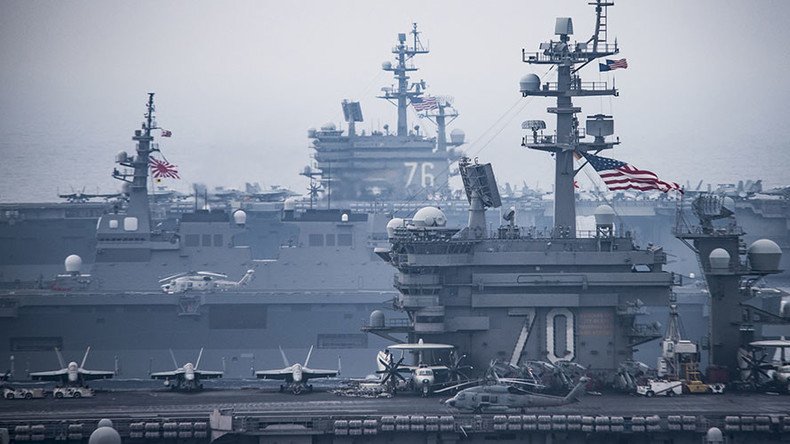 The Japanese and US militaries have teamed up for a three-day exercise in the Sea of Japan, in a show of force just days after North Korea launched a ballistic missile which landed in Japan's exclusive economic zone.
The 'USS Carl Vinson' and 'USS Ronald Reagan' strike groups have joined Japanese destroyers 'Hyuga' and 'Ashigara' for the exercise.
In a post on its Facebook page, the US 7th Fleet described the drills as "routine training."
"The Ronald Reagan and Carl Vinson Strike Groups were joined by the Japan Maritime Self-Defense Forces (JMSDF) for routine training to improve interoperability and readiness in the Indo-Asia Pacific," it wrote.
The Japanese military confirmed in a release that its destroyers had joined the US vessels, according to Reuters.
"It's the first time we have exercised with two carriers. It's a major exercise for us," a Japanese military spokesman said, according to the news outlet.
Meanwhile, Japanese Air Self-Defense Force F-15s are taking part in simulated combat with US Navy F-18 fighters at the same time, according to the Japanese military.
The drills follow separate naval exercises conducted in the same waters last month, with the 'USS Carl Vinson' and South Korean and Japanese aircraft taking part.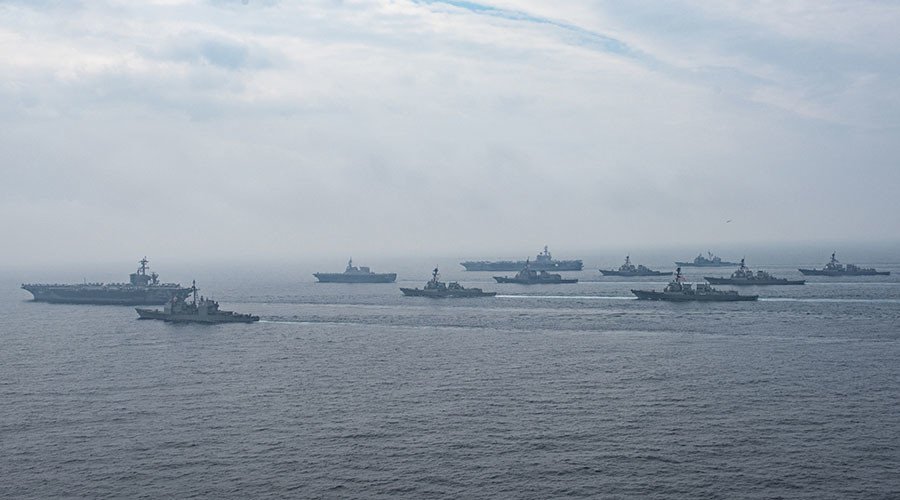 The most recent exercise comes just three days after North Korea launched a short-range ballistic missile which landed in the Sea of Japan, about 300km (186 miles) off the Japanese coast and in Japan's exclusive economic zone (EEZ).
Responding to the launch, Japanese Prime Minister Shinzo Abe said that Tokyo would take "specific action" and join forces with the US to deter North Korea.
It also comes shortly after defense industry sources in Tokyo said Japanese and US companies were collaborating on new missile defense radars.
Japan has expressed concern about North Korea's ballistic and nuclear capabilities in recent weeks, telling citizens last month that they could expect a 10-minute warning if a missile were headed for Japan. It also issued a guide titled 'Protecting Ourselves Against Armed Attacks and Terrorism' last month.
Also last month, the country's National Security Council discussed how to evacuate some 60,000 Japanese citizens from South Korea in the event of a crisis, and how to handle a potential flood of North Korean refugees heading into the country – some of whom could be spies and agents for Pyongyang, Reuters reported, citing Japanese media.
Tokyo first began working on plans to respond to a potential crisis on the Korean Peninsula in February, after Abe met with US President Donald Trump at a summit in America, Kyodo news agency reported at the time.
The US has been leading efforts to impose additional sanctions on North Korea, and has been urging China to put pressure on Pyongyang as its sole economic lifeline.
Meanwhile, North Korea has ignored all calls to halt its nuclear and ballistic missile programs, conducting dozens of missile launches and testing two nuclear bombs since the beginning of last year, in defiance of UN sanctions.
You can share this story on social media: