Seoul confirms joint drill with US B-1 bomber as N. Korea promises 'bigger gift package for Yankees'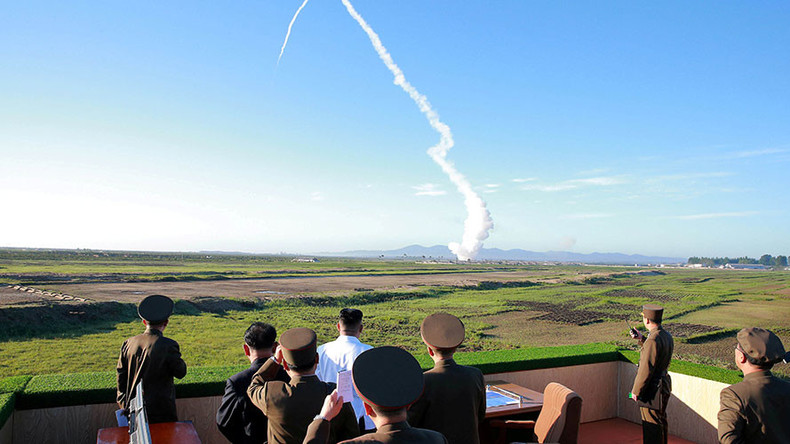 The South Korean military confirmed on Tuesday that it took part in joint war games with the US that featured a supersonic B-1B bomber. Pyongyang slammed the drills, threatening "the Yankees" with retaliation, while boasting the test of a new missile.
The military exercises, dubbed "a nuclear bomb dropping role drill" by North Korean state media, were held on Monday, South Korean Defense Ministry spokesman Moon Sang-gyun said, as cited by Reuters. He did not provide any details on what was drilled during the exercises or what their purpose had been, however.
Meanwhile, the US Navy said it was going to step up its activities in the waters around the Korean Peninsula and conduct a drill involving the carrier strike group led by the USS Carl Vinson and the USS Ronald Reagan. Both aircraft carriers are currently deployed in the region.
The group will be soon joined by Carrier Strike Group 11 led by the USS Nimitz, which departed from the Naval Base Kitsap-Bremertron on Thursday. Apart from the USS Nimitz, the group also comprises an array of guided-missile destroyers and a squadron of aircrafts.
The decision to dispatch a third aircraft carrier to the region was made before a recent spike in tensions, which was prompted on Monday when Pyongyang test-fired a new short-range ballistic missile that landed within Japan's economic zone, some 300 kilometers from Japan's islands.
North Korea declared the launch a success on Tuesday, saying the weapon has proven that it is "capable of making ultra-precision strike on the enemies' objects at any area," North Korean state news agency KCNA reported. However, the missile test has drawn strong condemnation from the North's neighbors, South Korea and Japan, as well as the US.
Brushing off the international criticism, North Korean leader Kim Jong-Un reportedly promised that his country "would make a greater leap forward in this spirit to send bigger 'gift packages' to the Yankees."
Following the launch, US President Donald Trump, who has repeatedly urged China to bring pressure to bear on the hermit state, argued that North Korea "has shown great disrespect for their neighbor, China."
China has called for restraint, however, noting that the situation on the peninsula is "complex and sensitive."
Moscow has taken a similar tone, saying that all parties to the conflict must "show restraint, including when it comes to military activity in the region."
You can share this story on social media: