Stop inventing fictional threats from Russia – Putin to Le Figaro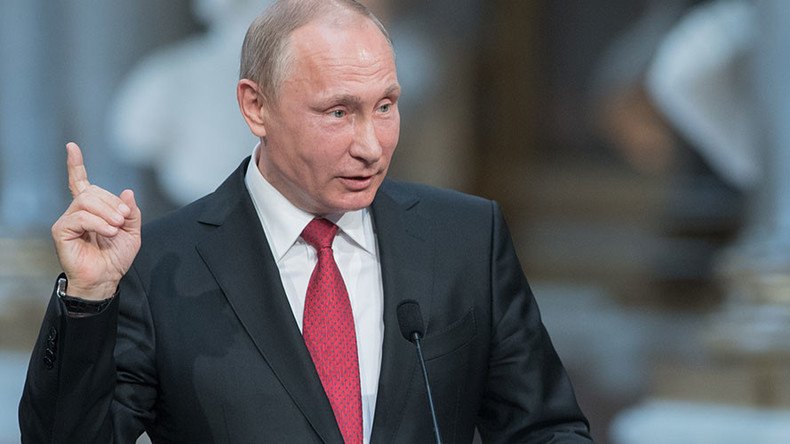 With bombings in Paris and elsewhere across Europe and war in the Middle East, it's strange to hear speculation about a fictional Russian threat, Vladimir Putin said in an exclusive interview with Le Figaro.
READ MORE: Anti-Russia spin caused by those who lost US election & can't face reality – Putin to Le Figaro
The Russian president, who visited Paris to meet with his French counterpart, Emmanuel Macron, on Monday, expressed the belief that Moscow and Western capitals "all want security, peace, safety and cooperation."
"Therefore, we should not build up tensions or invent fictional threats from Russia, some hybrid warfare etc.," the Russian leader in the interview to be published in full on Wednesday.
READ FULL VERSION of Putin's interview
"What is the major security problem today? Terrorism. There are bombings in Europe, in Paris, in Russia, in Belgium. There is a war in the Middle East. This is the main concern. But no, let us keep speculating on the threat from Russia."
"You made these things up yourselves and now scare yourselves with them and even use them to plan your prospective policies. These policies have no prospects. The only possible future is in cooperation in all areas, including security issues," he added.
Fighting international terrorism is among the issues on which Russia and the West must work together, Putin said.
'No proof Assad used chemical weapons'
When asked about the Western claims that the Syrian government of Bashar Asssad used chemical weapons against its own people, the Russian leader reiterated that the accusations were groundless and politically motivated.
He reminded that that when the alleged attack happened in the town of Khan Shaykhun in Syria's Idlib province on April 4, Moscow called on Washington and other interested parties to send inspectors to the Syrian airfield from where the alleged chemical originated as well as to the site of the bombing.
However, both Russian proposals were refused by the Western partners, Putin said, adding, "If chemical weapons were used by President al-Assad's official agencies, modern verification equipment would certainly find traces of this."
"In my opinion, the accusations have been made for the sole purpose of justifying the use of additional measures, including military ones, against Assad. That is all. There is no proof that Assad has used chemical weapons. We firmly believe that that this is a provocation. President Assad did not use chemical weapons," he said.
Putin said that he agreed with French counterpart Emmanuel Macron that the use of chemical weapons in Syria was "a red line."
"Moreover, I believe that this issue should be addressed on a broader scale. President Macron shares this view. No matter who uses chemical weapons against people and organizations, the international community must formulate a common policy and find a solution that would make the use of such weapons impossible for anyone," the Russian leader said.
Putin highlighted the role of an agreement to establish four de-escalation zones in Syria, free from fighting between Syrian government and rebels, and called it "an extremely important milestone" toward a political settlement.
READ MORE: Russia-initiated safe zones in Syria offer real chance for reconciliation – Assad
However, he added that the zones should not "become a prototype for the future territorial division in Syria."
"On the contrary, I expect that these de-escalation zones, if peace is established, and the people who will be controlling them, will cooperate with the official Syrian authorities," the Russian president said.
The nascent cooperation within these zones should pave the way for a broader political reconciliation, followed by a new constitution and elections, Putin said, stressing that only the Syrian people have the right to decide the political future of their country and, in particular, of President Assad.
Putin also noted that Turkey, Iran, the Syrian government and the armed opposition, as well as Russia, all play an important role in ensuring that the Syrian ceasefire works.
NATO's military build-up 'threat to international security'
Weighing on the outcome of the recent NATO summit, at which Russia was branded a threat to security, Putin pointed to the ambiguous signals Moscow is receiving from the alliance.
"What attracted my attention is that the NATO leaders spoke at their summit about a desire to improve relations with Russia. Then why are they increasing their military spending? Whom are they planning to fight against?" Putin said, adding that Russia nevertheless "feels confident" in its own defenses.
Washington's appeal to other NATO members to ramp up their military spending and alleviate the financial burden the US is forced to shoulder is "understandable" and "pragmatic," Putin said.
READ MORE: Trump says Berlin must do more for NATO as German FM claims US leader puts Europe at risk
But the strategy employed by the alliance against Russia is "shortsighted," the Russian president added, referring to the NATO's expanding missile defense infrastructure on Russia's doorstep and calling it "an extremely dangerous development for international security."
Putin lamented that an idea of a comprehensive security system envisioned in the 1990s that would span Europe, Russia and US has never become a reality, arguing that it would have spared Russia many challenges to its security stemming from NATO.
"Perhaps all this would not have happened. But it did, and we cannot rewind history, it is not a movie."
'Ball in Ukraine conflict resolution is in Kiev's court'
Moscow is not a party to the Ukrainian conflict, Putin said, noting that it all boils down to "first and foremost" conflicting parties to put an end to the protracted hostilities in the country's east.
"This conflict is internal – a Ukrainian conflict primarily," he stressed, arguing that "the source of all problems" that have been plaguing Ukraine "an unconstitutional forceful seizure of power in Kiev in 2014."
Putin said that the road toward a longstanding peace goes through the full implementation of the Mink agreements, in which "the ball is in the court of the official Kiev authorities."
READ MORE: Offices of Russian IT giant Yandex searched in Ukraine amid 'treason' investigation
As the number one step to end the ongoing military stalemate, Putin named the immediate withdrawal of heavy weaponry and troops by the Kiev authorities from the designated borderline area, which they refuse to do, citing rebel shooting. Putin argued that the latter would not stop retaliating while the heavy weaponry is stationed there.
Kiev must also comply with the political conditions set forth in the accords, that is granting the breakaways Lugansk and Donetsk Republics a special status and amnesty to the rebels. While both bills have been passed by the Ukrainian legislature, none of them has taken effect to date.
However, instead of meeting these provisions, Kiev further encroaches on the rights of its citizens in the eastern Ukraine by condoning and then joining the railway blockade of the region, Putin said.
"Can we speak of changes for the better in this situation? Regrettably, we have not seen any so far."
You can share this story on social media: