Russia-initiated safe zones in Syria offer real chance for reconciliation – Assad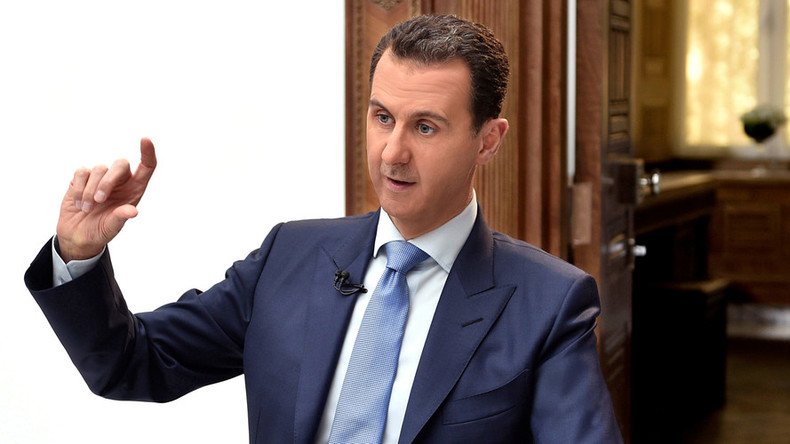 Syria's President Bashar Assad believes that the internationally agreed de-escalation zones are a real opportunity to finally achieve peace in his war-torn country, saying, all previous initiatives have failed due to some states hindering peace by pursuing own political goals.
The "foremost" aim of the de-escalation or safe zones is to protect peaceful civilians, but Assad said they also provide armed militants with an opening "to enter into a truce with the government."
"This is a chance for a person with weapons in hand to pause to think. In other words, if they lay down arms, amnesty would follow," the Syrian president said in an interview with Belarusian ONT television aired on Thursday. The interview has also been published by the Syrian SANA agency.
READ MORE: Safe zones in Syria come into force: Here's what we know about them
The Syrian leader praised Russia's peacemaking efforts, in particular, the Astana peace talks, where Moscow proposed the creation of such de-escalation zones in agreement with the other guarantor-states – Iran and Turkey.
"In Astana, the dialogue was with the armed terrorists under Russian sponsorship and based on a Russian initiative...This started to produce results through more than one attempt to achieve ceasefire, the most recent of which is what's called the de-escalation areas," Assad noted.
"It is correct in principle, and we supported it from the beginning because the idea is correct. As to whether it will produce results or not, that depends on the implementation," the president said.
The safe zones, established in several Syrian provinces, including in Idlib, Aleppo and Homs, currently have a mixture of civilians, armed rebels and terrorist groups.
The point of the de-escalation zones is to protect the civilians in these areas and to allow rebels to lay down their arms in return for amnesty, Assad explained.
While optimistic that the initiative will work, Assad also warned that Western countries and their allies in the Middle East could use it to send more logistical and financial support to rebel groups there and undermine the security of the safe zones.
"This is very likely, and this is what happened before," Assad said. "Former initiatives failed not because they were wrong. They failed because those countries interfered in order to re-escalate militarily."
Assad said any attempts to stir up trouble in the demarcated areas will fail, adding, that Syrian and Russian forces, together with Iran and Hezbollah, "will strike any move on the part of the terrorists if they attempt to violate this agreement."
The Syrian president noted that, so far, the Astana talks have proven to be more productive than Geneva format negotiations which so far produced little results.
"As to Geneva, so far it is merely a meeting for the media. There is nothing substantial in all the Geneva meetings. Not even one per million. It is null. The process is aimed in principle at pushing us towards making concessions," Assad said.
Assad also commented on the American missile strike on Syria on April 7, when the US launched 59 Tomahawk missiles at the Shayrat Airbase. The attack was ordered by US President Donald Trump in a symbolic "retaliation" to the chemical attack in Syria's Idlib Province that Washington blamed on Damascus without any proper investigation being carried out.

"After they failed in marketing their policy towards ISIS and al-Nusra through their support of these two organizations directly or indirectly... they wanted to wash their hands of the subject and to show that the problem in Syria is not ISIS and al-Nusra but the state which is killing its innocent citizens by using toxic gasses," said Assad.
READ MORE: Putin believes US attack on Syria violates international law – spokesman
"It was also a cover for the American intervention in Syria, because as you know Trump is facing an internal predicament and internal conflicts within his administration," the Syrian president said.
Syria has right to multibillion-dollar compensation
President Bashar Assad believes Syria has the right to receive multibillion-dollar compensation for all the destruction during the long-standing armed conflict in the country, but doubts that it will ever happen.
"As to demanding rights, there is no doubt that the Syrian people have the right for compensation worth hundreds of billions," Assad said. He added that those demands must be addressed to a particular party via international law institutions. Some of these "are arms of the American State Department which will not return rights to their owners."
Assad noted that Syria can be rebuilt right now and does not need "the money of terrorist supporters."

"We have the capabilities to rebuild our country. Money will come gradually…We have no concerns about this, for we don't need money from those states or those officials who supported terrorism and bloodshed in Syria during this crisis."
You can share this story on social media: