Europeans still believe US would intervene in case of conflict with Russia – survey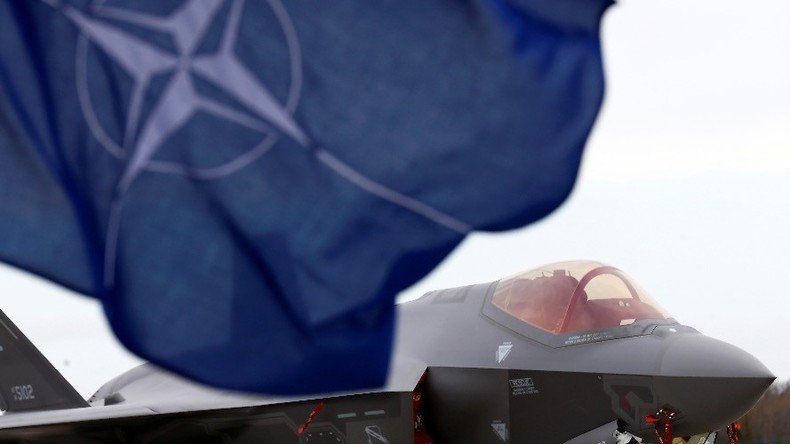 Most Europeans believe the US would protect its European NATO allies in case of war with Russia despite US President Donald Trump's criticism of the military alliance, a new poll shows at a time when it is NATO which are amassing its forces on Russia's borders.
On average, 66 percent of citizens of seven major NATO member states believe that Washington "would use military force" against Russia to defend a NATO ally in the event of a "serious military conflict," findings from a poll conducted by the Pew Research Center between February and early April 2017 shows.
This sentiment is shared by about 70 percent in Spain and the Netherlands as well as in Canada while, in France, the UK and Germany, between 60 and 66 percent of people believe the US is ready to intervene militarily should there be conflict with Russia.
This belief remained unchanged throughout the first quarter of 2017 despite Trump's sharp criticism of NATO during his election campaign, the Pew Research Center says.
On the campaign trail, Trump repeatedly referred to NATO as "obsolete," and spoke of the need to update the 68-year-old alliance's "outdated mission and structure."
In July 2016, Trump said the US "supports NATO far more than we should," adding, "a lot of countries aren't doing what they're supposed to be doing."
However, his statements appeared to have hardly shaken the faith in the alliance both inside and outside the US as public opinion of NATO improved in countries such as Canada, Germany, the Netherlands, Poland and France as well as in the US between 2016 and 2017.
In the US, there are still sharp political and partisan differences in perceptions of the alliance where Democrats are much more supportive of NATO than Republicans which constitute Trump's political and electoral base.
In 2017, 78 percent of Democrats expressed support for NATO while it was true only for 47 percent of Republicans, Pew's data says.
Its research show that support for NATO in its other member states remains quite solid as 79 percent of Poles and the Dutch support it along with two-thirds of Germans and six-in-ten people in France and 62 percent of the British.
Notably, however, not all Europeans are equally keen to come to the aid of their NATO partners in case of war with Russia.
While 72 percent of the Dutch and 62 percent of Poles are ready to do so, in Canada and France, only slightly more than a half of people surveyed said their countries should defend their allies against Russia.
In the UK, only 45 percent of respondents supported that idea while Germany appeared to be least supportive of defending its NATO partners in a potential conflict with Russia as only 40 percent of Germans were in favor of such move.
Spain remains largely undecided about the issue as equal parts of Spanish society – each amounting to 46 percent – advocate and oppose the idea of defending an ally against Russia.
In the US, Republicans and Democrats are almost equally willing to support their European allies in case of a potential war with Russia with 65 percent of Republicans and 63 percent of Democrats advocating such move.
Unsurprisingly, people, who view Russia as a threat, support the idea of defending their NATO allies against Russia with military means. The percentage of those advocating the use of military force against Russia should it get into a "serious conflict" with a NATO nation often being twice as big among those who regard it as a "major threat" in comparison to those who say Moscow poses no threat.
Seven-in-ten Americans, who view Russia as a major threat, support defending a NATO ally against it along with more than a half of like-minded British and Germans as well as between 60 percent of people in France and 66 percent in Canada.
Only 42 percent of the US citizens, who do not see Russia as a threat, back such assistance while only 27 percent of British and Germans, 38 percent of French and 47 percent of Canadians who hold similar views.
NATO is purposefully presenting Russia as a security threat to justify its own existence, Yves Bonnet, the former head of French counter-intelligence, told RT on May 16, commenting on the bloc's obsession with the perceived "Russian threat."
Bonnet, the former head of the French Directorate of Territorial Surveillance, said NATO's claims concerning Moscow's "assertiveness and aggressiveness are exaggerated" and its only purpose is "prolonging [NATO's] existence."
The poll was conducted among 9,761 respondents in the US, Canada, France, Germany, the Netherlands, Poland, Spain, Sweden and the United Kingdom between February 16 and April 10, 2017.
On April 12, Trump radically changed his stance on NATO by not only saying that it is "no longer obsolete" but also praising it as the "bulwark of international peace and security" which "defeated communism and liberated the captive nations" of Eastern Europe.
The survey results were released ahead of a NATO summit in Brussels scheduled for May 24, which will be the first NATO summit attended by Trump.
The poll results also come as NATO continues its military build up on Russia's borders.
In Early May, the head of US Special Operations Command (USSOCOM), General Raymond Thomas, said US Special Forces teams are present in almost every European country on Russia's borders, including the Baltic States, Poland, Romania, Ukraine, and Georgia as he addressed the House Armed Services Committee.
The US also continued to move troops and equipment to Eastern Europe as a US battlegroup consisting of 1,350 troops and small armored units arrived there in April in addition to the troops that were already stationed in the region by other NATO members.
In March, 800 British soldiers began arriving in Estonia while Germany sent troops and tanks to Lithuania after the alliance launched its European Reassurance Initiative in 2014 following the Ukrainian crisis.
On May 4, General Curtis M. Scaparrotti, the head of United States European Command (EUCOM) who is also NATO's Supreme Allied Commander, told the US Senate appropriations subcommittee that the alliance is "returning to our historic role as a war fighting command" as its faces a threat from "a resurgent Russia" that "turned from partner to antagonist as it seeks to undermine the Western-led international order."
In response, the Russian Defense Ministry said that the US military are simply unable to abandon its "narrow-minded" Cold War-are mentality.
You can share this story on social media: